Most of the time when I am getting dressed I fall back on my tried-and-true, no-fail fashion combos. (I was trying to get as many hyphens as I could in there, could you tell?) Now that I am in my 30's, and have kids, I honestly don't spend a ton of time stressing over what to wear in the morning. I don't have the desire or the energy (not a morning person!) to be standing around in my closet for more than ten minutes figuring out what to put on. Thanks to trial and error (and a lot of
pinning inspirations!
), I am pretty honed in to what I love and what works for me- which makes getting dressed a snap! Now that I am getting back in the habit of sharing my personal style photos, I plan on sharing many of my combos here. I hope it will inspire you to discover your favorite combos as well!
For this outfit, I incorporated a favorite look which pairs an A-line dress with booties and a denim jacket. A-line dresses, also known as fit and flare, are flattering for any figure. They are exactly what the name suggests: fitted up top, and then from the waist down they flare out. For women who are bigger on bottom such as myself, this style of dress is perfect because the bottom flare glides over your curves, instead of hugging them in all the wrong places.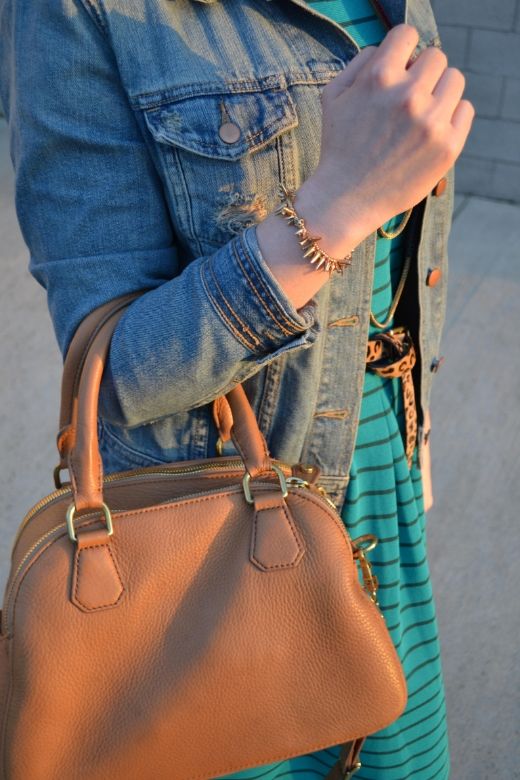 To accessorize, I added a skinny belt at the waist for a little more definition and interest. I pair leopard with practically everything and here it looks great with stripes! I recently purchased this
medium Biennial Satchel from Jcrew
during a sale, and have been using it daily. I love the pebbled leather finish, it is roomy enough for all my essentials, and the versatility of the different straps is great for a busy gal on the go!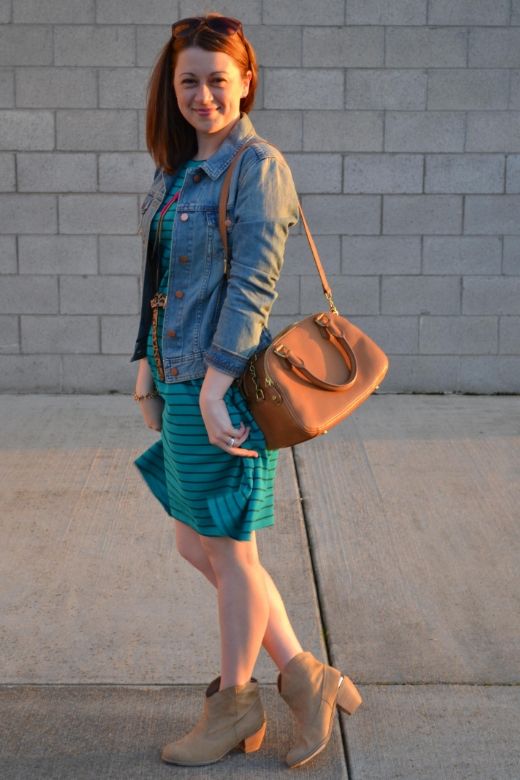 Booties have been a favorite of mine for a few years now. They add a more modern edge to an outfit that I love. Had I paired this outfit with pumps it would have been a little too dressed-up for my taste. I generally like to feel relaxed and comfortable with what I am wearing. Pumps, on the other hand, I love to pair with boyfriend denim! It's all about playing with that juxtaposition between casual and formal for me.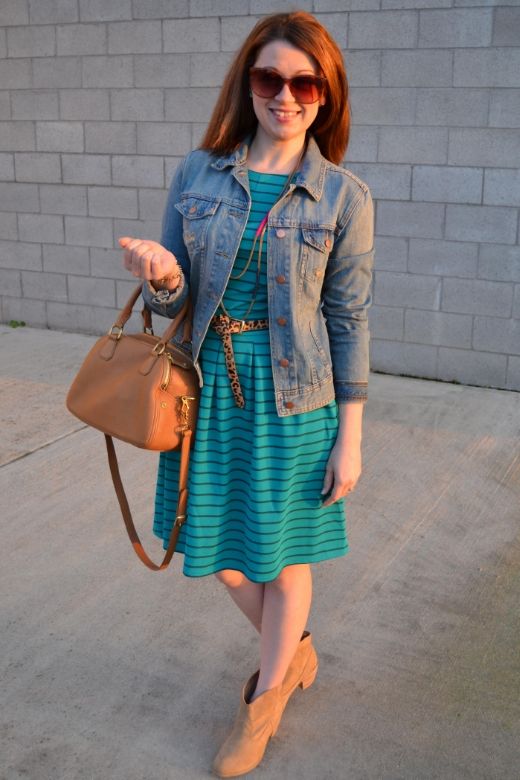 I obviously still love to stay on top of trends and try new things, but I now usually do that all within the framework of what I know already works for me. Accessories is where I usually like to experiment with trends, and switching up colors and patterns of the style of clothing items I like is another way I mix things up from season to season.