I've been having so much fun dreaming and scheming up what my spring wardrobe is going to look like this year, and as mentioned before, I cannot get enough denim! This is nothing new for me necessarily, as denim has always been a big part of my lifestyle as a busy mom. It's easy, it's comfy, it's versatile, there is really no way to do it wrong. One of my favorite places to find denim that is flattering to my figure is Old Navy. They carry a great selection of cuts and fits, so each season I like to stock up on a few new styles.
I wax poetic about Old Navy here on the blog a lot, so imagine my absolute delight when I was selected to partner with Old Navy as a brand ambassador for the year! I've been a loyal fan since high school, so to have the opportunity to share with you my monthly finds and tips is beyond exciting! What better way to kick off the partnership than by sharing with you Old Navy's impressive denim selection! I picked up the pair I am wearing here, the "Sweetheart" skinny fit in "Hudson", over the weekend and may or may not have already worn them several times since then. (You do that too right?).
I'll let you in on my personal formula for a perfect fit: I get the "Sweetheart" fit in petite. This is perfect for those like me who are curvy through the hips and thighs and smaller at the waist (pear shaped), and who have short(er) legs. My main problem with denim in the past was this big gap at the top back (showing off my undies to the world) because they would fit my hips, but not my waist. The "Sweetheart" fit doesn't gap out in the back like others, since they are cut specifically to fit a pear body shape. The petite length is perfect for my shorter legs, hitting me right at the ankles without having to cuff! Of course, this is the formula that works best for me, but there are other fits and cuts that cater to other shapes as well. The "Diva" is for a straighter waist and thigh, The "Flirt" is for semi-curvy and the "Rockstar" is meant to be great for all shapes.
Browsing the images I have saved as spring style inspiration, I had a lot of denim on denim, white and pops of bold color. When I saw this bleached out chambray top, I knew it would be the perfect match to pair with my denim pants. For a fun pop I added my neon yellow flats (also seen in the February Closet). We just so happened to have beautiful weather this weekend, so I was able to enjoy the outfit without any additional layers! Thank heaven for this little slice of spring!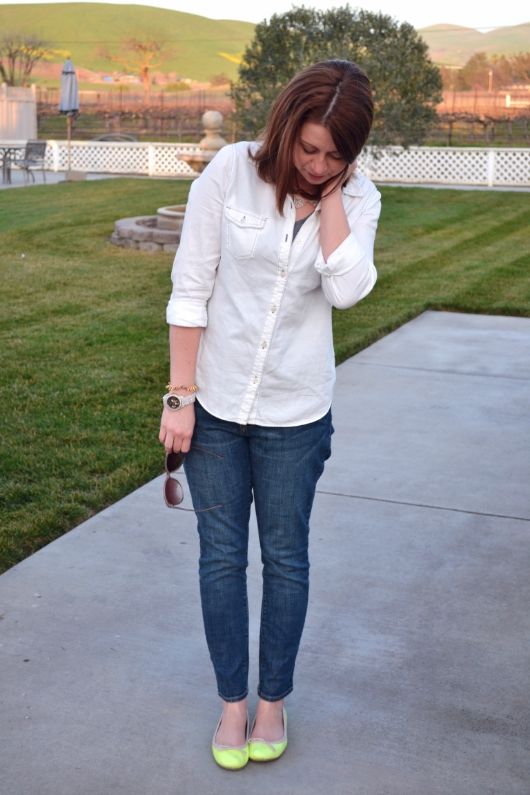 Do you have a favorite pair of denim from Old Navy? I'd love to hear what works for you! All denim is on sale at Old Navy right now, starting at only $19, so this is the perfect chance to stock up.
*All denim is on sale right now! These were only $19!
Flats: Gap
Watch: Fossil
This post is sponsored by
Old Navy
. Check out Old Navy's latest fashion lineup in store or online at
oldnavy.com.