Last weekend my husband and I took a quick little getaway to celebrate our anniversary. We went back to where we were married:
Wine & Roses
in Lodi, Ca. It is only a 40 minute drive and believe it or not, the Lodi area is like a mini Sonoma/Napa Valley. It has well over 80 wineries! They are famous for their Zins, which I am not as big of a fan of, but I don't really discriminate when it comes to wine tasting. Come one, come all is my motto! Moral of the story, I actually got dressed and did my hair! I swear I have been so busy with stuff around the house, the kitchen update, and general end-of summer-vacation activities that I have been living in jean shorts, t-shirts and pony tails.
Nothing too fancy, I wanted to be comfy for lots of hours on my feet, but my new bag from
Nest of Posies
added a sweet dose of bling! My dear friend
Kellie
makes the most adorable personalized bags, and when I saw a little hint of sequins on one of her instagram pics of a bag she made for herself, I told her I had to have a similar one too! I let her do her thing, and this is what she came up with for me. Don't you just love it?
A nice thick band of silver sequins, six white rosettes and my initials embroidered with a pretty silver thread, all on a SUPER roomy jute tote. It even has a zippered pocket inside to stash whatever you please.
Let's talk for a minute about how roomy this tote is. I put it to the test Saturday night when my husband and I decided to head down to the hotel pool after hours and smuggle in a bottle of wine we had purchased earlier in the day. Renegades we are. We stashed two towels, a bottle of wine and two wine glasses also wrapped in a towel in this bag, and there was still room for more stuff! I now count this bag as my partner in crime. Image the goodies I can smuggle in to the movie theaters.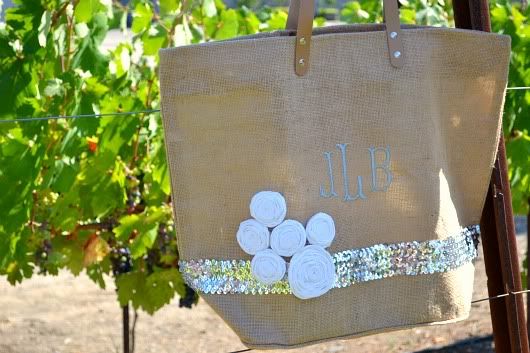 One last beauty shot for you in front of the vines. This bag makes me happy. Grapevines make me happy. So this picture really makes me happy.
You know what is going to make YOU happy? A discount code just for Sweetie Pie readers to use in the
Nest of Posies shop!
Simply enter "sweetiepie" at checkout for 15% off you entire purchase.
This discount will be valid for one week only, so be sure to snatch up your goodies by next Wednesday August 17th.