Top o' the mornin' to ya! Could it possibly be Monday already?? Oh, I think it is my friend. Which only means one thing-I've got my third installment of "If These Walls Could Talk" all ready for you as promised! I am so excited to share with you the home of one of my bloggy BFF's, Kellie of
This Blessed Nest
. I really don't even know where to begin about Kellie, boy do I love this girl! When I think of Kellie I think of a nice warm hug. Do you know what I mean? She is just one of those gals that exudes warmth (through the computer at least!) and grace. And fittingly enough, so does her home! Let's join her on a tour...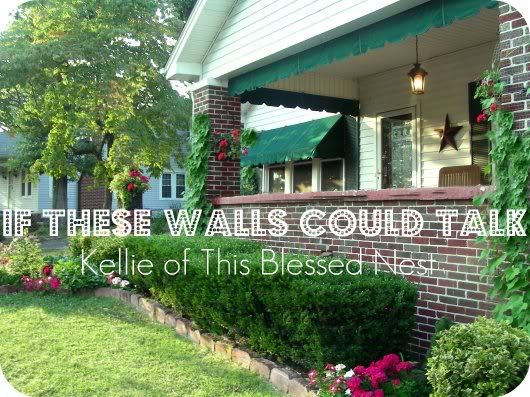 Hello! So excited to be a guest of SPPN! I have been a huge fan of Jackie's ever since I started blogging two years ago. I love this series and am thrilled to be a part of it.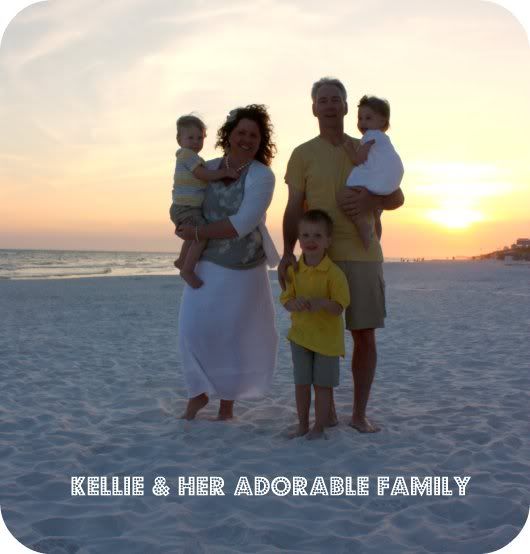 I am representing the deep South, as in Chattanooga, Tennessee. I love our small city with all my heart and am so thankful that I am lucky to live in a city I love. We bought our house 5 years ago and fell in love with the neighborhood and charm of the house the minute we walked in. Open floor plan, hardwood floors, crystal door knobs on every door and three bathrooms in an almost 100 year old house were HUGE selling points to me. It was on the market for two days and we snatched it right up.
After living in our home for a year we discovered that our home and our neighborhood were part of the Sear's Catalog Homes that were built between the 1915-1930's. Our home happens to be the "Clyde" style. The only thing different is in the 60's, the owners added a loft/attic style room upstairs. Little did we know how much that added upstairs loft would help us out with the surprise of having twins two years ago!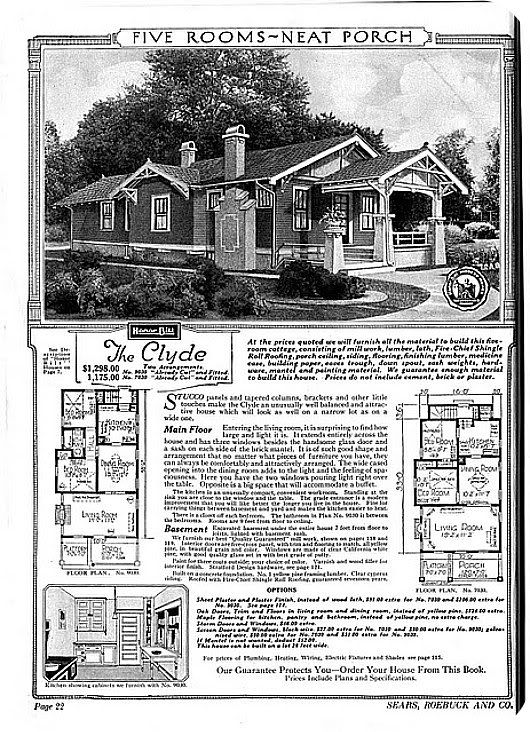 Our living/family room: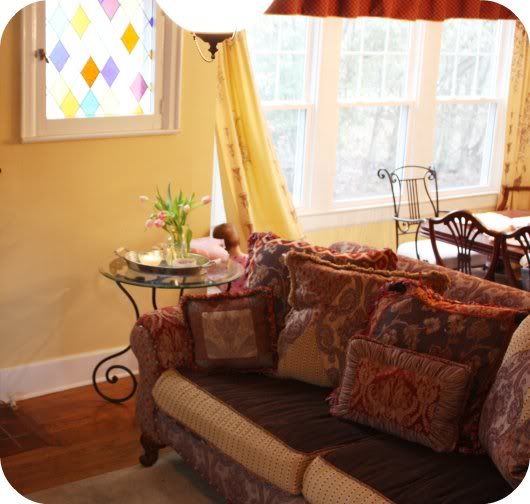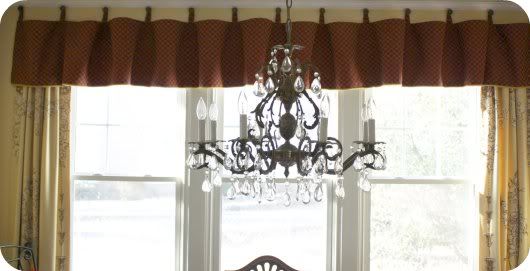 Walking in, it is one giant room: family room and dining room. Our sofa is Jeff Zimmerman. The drapes are from an estate sale. The detail is hard to capture. Can you believe the set of drapes was only $35.00? The dining room table is a yard sale find and the chandy was given to me by a friend. Can you believe she was going to trash it???
Our hallway: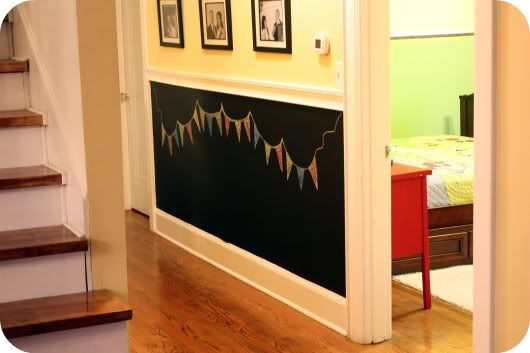 As this is posting, we are currently working on a gallery wall opposite the chalkboard wall. The chalkboard hallway is hands down the best decorating thing I've done in this house. My kids L.O.V.E. it!
What we call our breakfast room:
This used to be what they called a "butler's pantry" years ago, but now we eat all our meals in here. The room color is Oceanfront by Benjamin Moore. EAT letters were an ebay score. Plates from Pottery Barn. The calendar wall system is a mix between Walmart and Home Goods.
Twins Nursery:
I love walking into this room. I knew since we were going to have two babies in here, I didn't want a lot of decor. I wanted things to be cheery but streamlined. All the bedding for both cribs, circus top valances and drapes were made by my mom ( I don't know what I would do without her!) The vintage circus prints are a score from ebay. My mom found the Pottery Barn chenille rug at a yard sale for $10. Armoire and dresser are hand-me-downs and the changing table is on loan. That double rocking green chair and I are still BFF's. I've spent many a nights in that baby.
My craft room/office:
This room is part of the upstairs add-on that they did back in the 60's. I love this room, even though it's the smallest room in the house. This room is a mix between vintage, new and custom built. The desk and chair we bought and splurged from our yard sale money. Peg board my husband and I built. Inspiration board (behind sewing machine)was from someone's trash that I gave a make-over to. The lampshade is from the Liberty of London collection from Target. The sewing machine is a hand-me-down from my mom.
Our bedroom: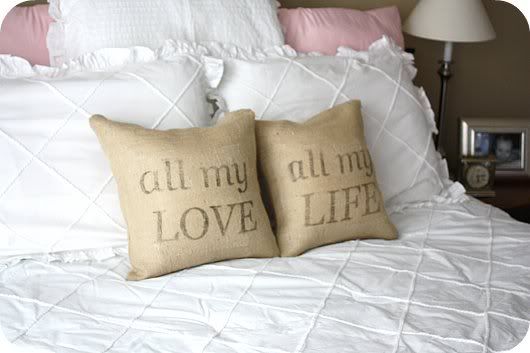 To be honest, this is really where I blog. Late at night or once and awhile during naps. So perhaps this should be called my office instead! All white bedding from Dillard's. Pink and burlap pillow cases made by yours truly.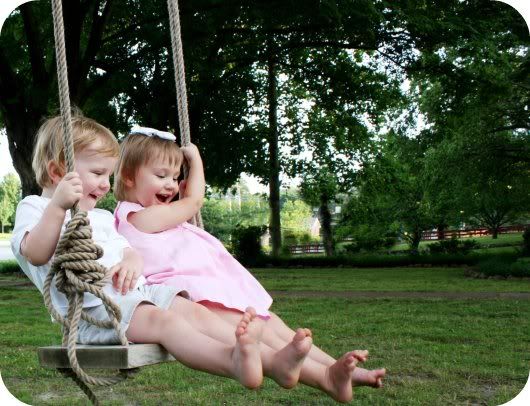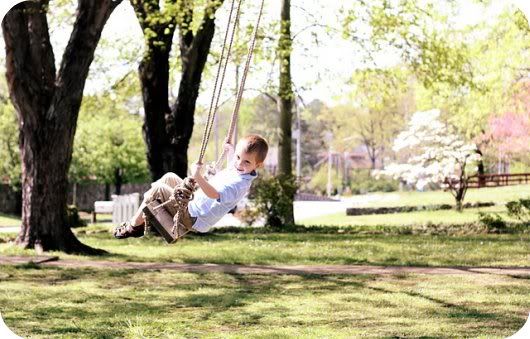 Besides the fact that I love my house, I also love the neighborhood. Beautiful tall oak trees, large yards, and old charming houses. I love that I am allowed to raise my kids in such richness of classic Southern charm and outdoor beauty all year long. Our home is still a work in progress, but I like it that way. It's amazing just how many memories and blessings have already filled up these walls in five years. We are truly blessed.
Thanks again, Jackie for letting me come to your neck of the woods to show off my neck of the woods. It is my dream one day that we do get to meet up in real life. xoxo
Girl, we will most definitely have to meet up in real life someday! Hopefully at your house! Thank you so much for your amazing home tour. Don't you just love all of her crafty DIY touches? I don't know how she does it all with three little ones-including twins. Just the thought of twins exhausts me, but Kellie is always on the go: doing fun things, making yummy recipes, fun crafts and decorating her house. Be sure to stop by her blog, This Blessed Nest to get in on all that action! Also, Kellie has recently opened an etsy shop, Bag Full of Posies, selling personalized bags that are super cute! I have a monogrammed lime green trellis tote, and also have my eye on this adorable "Tiptoes and Tutus" bag for Natalie's ballet class!