If you are in the market for some serious skin Rx after a long rough winter, I have the perfect new product for you to try. I was sent the most adorable package filled with Magnolia bakery cookies and a trio of the
NEW
Vaseline
®
Intensive Care™ Healing Serums
right before Valentine's Day. The timing was perfect, as the weather is
already
starting to transition a bit here in
California
and my skin has been extra dry and chapped lately. Right away I was excited at the "10x the deep healing power"
proclamation
on the bottle (and equally excited at the cute X cookies sent to go with the theme).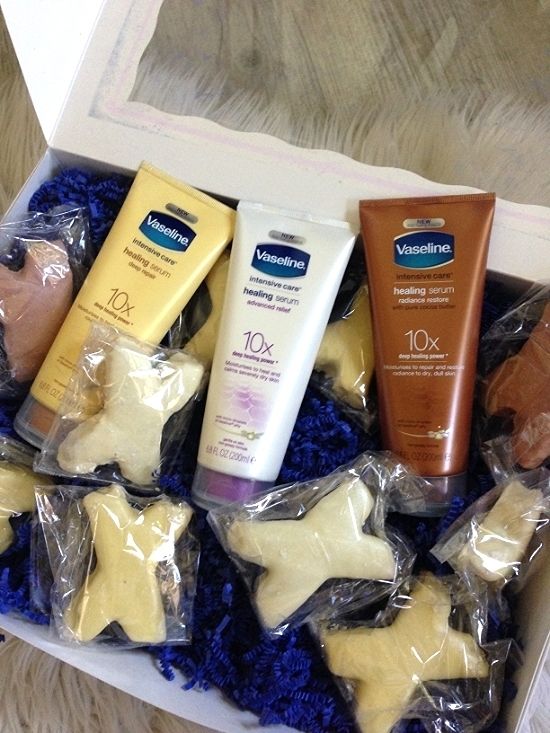 So here is the scoop on what makes these serums new and exciting. Regular lotions generally only temporarily relieve dry skin symptoms and only mask underlying problems. Vaseline's new healing serums contain PPAR activators that begin healing by penetrating the surface skin to replenish lipids, and moisturizes to boost the skin's natural renewal cycle. Micro-droplets of Vaseline Jelly form a protective layer on your outer skin to prevent moisture loss. Elastomers then follow up to deliver a luxurious silky smooth product feel. That is a lot of fancy mumbo jumbo that translates to: these serums are awesome! Much like the serums you have used for your hair or face before, the advanced healing benefits are now available for all-over body care! Woo hoo!
\
I personally tried all three formulas, and my absolute favorite was the "
Advanced Relief
", which is in the white bottle. This formula is to heal and calm severely dry skin and has the soft scent of rose, amber and vanilla. It was definitely my favorite scent of the three, not too overpowering for those who are sensitive to fragrances like I am.
My second favorite was the "
Radiance Restore
" shown in the bronze bottle above. If you love cocoa butter, this is the one for you! This formula moisturizes to heal and restore radiance to dry, dull skin.
Lastly is the "
Deep Repair
" in the yellow bottle. If you are a fan of amber, jasmine and sandalwood scents, try this one out. This formula deeply moisturizes to heal rough, cracked skin.
All three can be used daily all over the body, and are available for only $7.99 at food, drug and mass retailers nationwide. This is definitely a bargain beauty buy that you need to try. I absolutely love how soft and silky my skin feels after putting this serum on. It doesn't feel greasy at all, which is one of my pet peeves with lotion. You know when you feel like you have to wash your hands after putting on certain lotions because they are so greasy? Not with these! I have been using the "Advanced Relief" formula daily and am definitely noticing a change in the softness and suppleness of my skin. I'm well on my way to being ready to bare more skin when the warmer weather arrives!
Which formula sounds like the one you would like to try? Let me know what you think! For more information and to find a store near you, visit
Vaseline.
Vaseline sponsored this blog post. The opinions and text are all mine.