The weather might not be cooperating, but I for one am so ready for fall to be here! A gal can only handle so much 90-100 degree weather before it gets a bit maddening. Luckily, there is a bit of relief coming through in the mornings, with nice cool temps in the sixties. Just long enough to open the doors and windows to let the breeze in and enjoy a warm cup of coffee.


This all gives me hope that cooler weather is on it's way, and I of course couldn't help but to be already planning and organizing my fall wardrobe. I mentioned previously my mantra of "KISS" (let's rename it "Keep It Simple Sister") mainly for ease and functionality. As a busy mom, it's key to be able to quickly get dressed in the mornings with little to no fuss. I've decided to stick to purchases in a classic color palette of black, gray, white and denim. My other main goal is to simplify my options, such as sticking with one bag or one pair of comfy shoes that will take me from situation to situation without needing to be changed.
Since the rest of the US seems to be well under way with their fall weather, I wanted to share with you three looks from my fall capsule wardrobe. I'm on a tight budget right now, so I am working with a lot of items I already owned, with just a few new budget buys to add some freshness.
I majorly fell in love with the look of a short
tshirt
style dress layered with a long sweater on top (namely this look on Pinterest), which is perfect for this transitional weather we are having. I can throw the sweater on in the chilly mornings, and then shed it by the afternoon when the sun is blazing. Once it starts to get cooler, you could easily throw on a pair of leggings under the dress and you are good to go! The dress I found on major clearance at Target (Only $6 instead of $20!) last week, the sweater is Target last year, the scarf is new from H&M (Only $15), the tote is Old Navy last year, and my shoes are new from the
Payless

ShoeSource
Dexflex
Comfort line (Only $26). This whole outfit is so comfy cozy (Kara's favorite words again), it can take me from the morning carpool line at the girls' school, all the way to dinner out with the
fam
at night.
Here we have a bit more of a sportier look, which I always appreciate just for that effortless vibe it gives off. This whole outfit is new this season, and in total only cost $80! If I had to play favorites, this outfit would get my gold star. I saw the denim in an ad from a recent magazine and loved them so much I traveled my happy little self an hour to my nearest Gap outlet to try and find them. I am still very much in love with skinny jeans, and the dark wash detailing near the knees is a fun play on the quilted
moto
denim look. The sweatshirt is from H&M, for the crazy good price of $15. The detailing and texture on this is just so great, I couldn't believe how inexpensive it was. I sized up to a medium for a looser fit, because I knew I would be wearing it with skinnies and leggings. The black flats are from Payless. These are going to be my go-to shoes for fall. I was looking for something comfortable and versatile, with black flats being high on the list. When I tried these "Claire" flats on I knew they were going to be perfect; they have memory foam insoles, the flexible construction moves with your feet and they come in wide sizes (which I bought) for extra relief for squished toes! There were several different color options, which you can check out here, including navy, nude, and a houndstooth style pattern to name a few.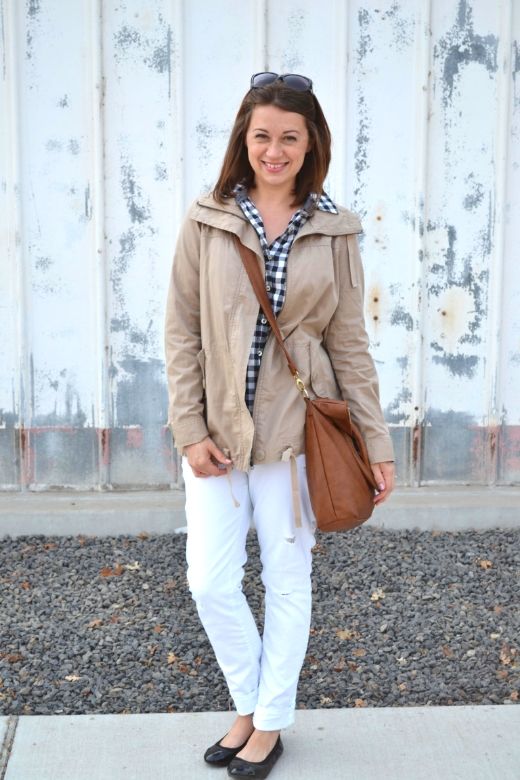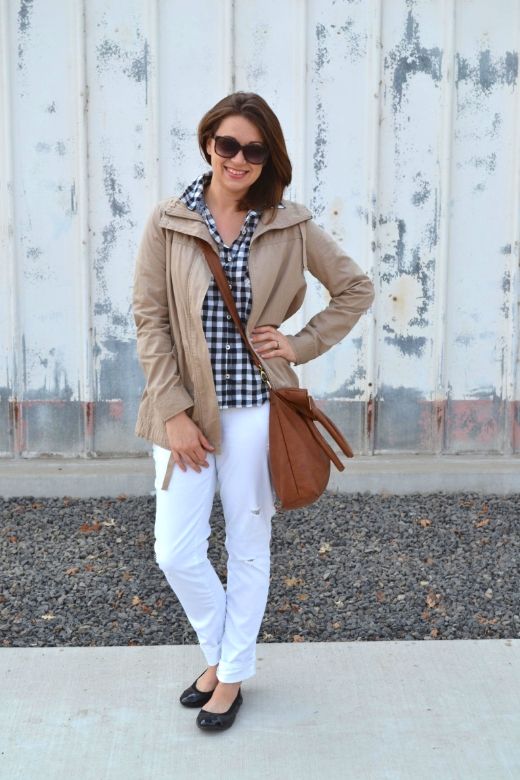 Lastly I have a look created around my white denim pants, which yes I am absolutely wearing after labor day. Don't worry, Tim Gunn says it's ok. I love the crisp look of white and black paired together, especially in fall. Here I have denim from Old Navy (last year, but still available for only $15!), a gingham top from Forever 21, a khaki jacket from Nordstrom
, and my
Payless
flats. I love this look for a weekend day trip, just gallivanting around and exploring. Which way to the cute little cafe and antique shops?
And there you have my first three looks from my fall wardrobe. All are comfortable, stylish and found on a budget. What items in your closet are your go-to's when you are looking to stay fashionably comfortable?
This is a sponsored conversation written by me on behalf of Payless via Burst Media. The opinions and text are all mine.