After three weeks of being sick, I finally made it back to the gym last week. It felt like such a relief to get back to routine, and I am excited to start fresh this year with my fitness goals. I fell in love with yoga last year, and I want to continue to take classes and push myself to get better. I really want to be able to do a handstand at some point this year! Old Navy has an amazing sale on their athletic gear right now, as well as a ton of new styles in stock, so I picked a few things up as a little motivator. My absolute favorite is this
1/4 zip jacket
, I can never resist a good geometric pattern!
I still need some new sneakers! Eek! I think I have narrowed it down to number one or three from my list I posted last week
here
.
I also bought a new pair of compression capris, the best workout pants Old Navy has to offer! You may remember my post
last year on athletic wear
when I tried on practically every workout bottom they had, and the compression capris were by far my favorite. The subtle pattern on these are so fun.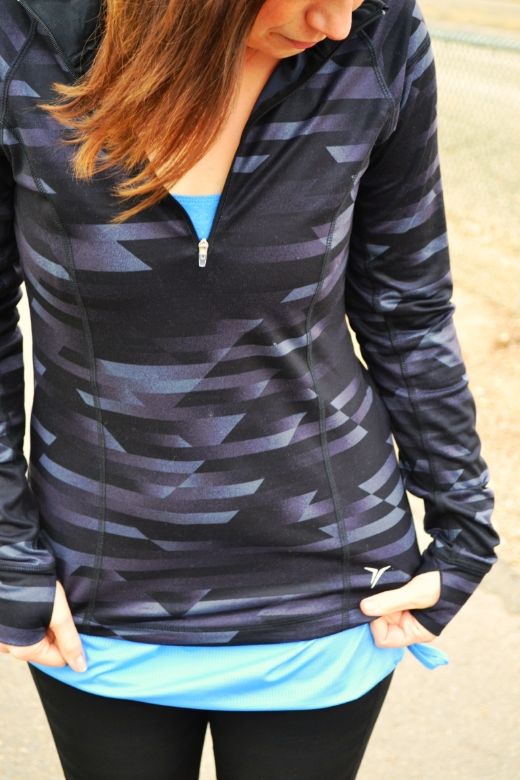 Underneath the jacket, I layered an Old Navy
compression tank
in "Azure Like You". Such a pretty shade of blue, which I picked because all of my black was needing a pop of color! It is nice and long- great if you like to cover up your backside like I do!
Outfit Details:
Compression Tank, $15 on sale
1/4 Zip Jacket, $19 on sale
Printed Compression Capris, $22 on sale
This post marks the end of my year long collaboration with Old Navy as a
Blog Ambassador.
This really has been the highlight of my blog career. If you had told little Old Navy obsessed me back in high school that one day I would be blogging for them I would have freaked out! I want to thank you all for your support this year, and I hope you have enjoyed these posts as much as I have enjoyed putting them together for you!
This post is sponsored by
Old Navy
. Check out Old Navy's latest fashion lineup in store or online at
oldnavy.com.