Ahh, awards season. The celebrities! The glitz! The glam! The red carpet photo bombs! (Thanks to JLaw it is now a thing.) All the hype gets me wishing for a red carpet of my own to strut down. Alas, I'm just a regular ol' gal, so my "red carpet" moments are more along the lines of date nights, birthday parties, and holiday get-togethers. Just because I'm not being primped and coiffed by a personal stylist, makeup artist and hairdresser all day doesn't mean I don't have a special occasion routine of my own. Read on for my fun and easy tips on how to spiff up for your very own "red carpet" moments!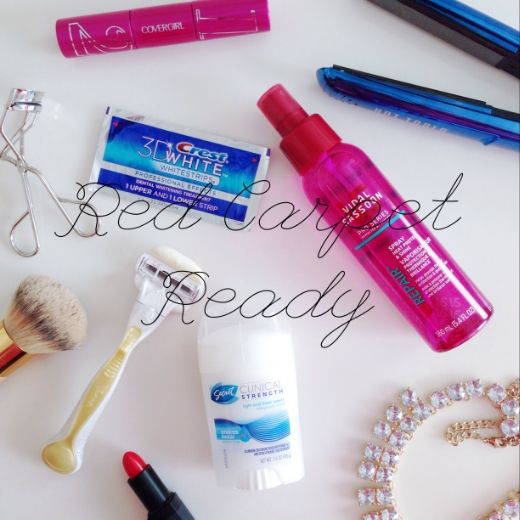 Body Prep:

I like to spend a little extra time creating a clean, smooth "canvas" if you will, by doing the following:

If you can, take a nice aromatherapy bath to relax, soften your skin and get you in the right frame of mind.


Get the smoothest shave ever by using the
Gilette Venus and Olay Razor.
Have you tried this one out? I don't know where it has been all my life. Basically there is no need for shaving cream when you use this. The Venus 5 blade razor is surrounded by two Olay moisture bars that release skin conditioners and help lock in skin's moisture. A super smooth shave plus silky moisturized legs in one!
I'm just going to throw out there that I perspire a lot when I am nervous, and special occasions have the tendency to make me a bit nervous. I've been using
Secret Clinical Strength Antiperspirant/Deodorant
for a few years now, and it is the only deodorant I have found that really helps my problem. It is a must-have for those special nights out!
On top of using a whitening toothpaste daily, when I have a special event coming up, I always take the time to use
Crest 3D Professional White Whitestrips.
These Whitestrips are formulated with the same enamel-safe ingredient dentist's use, and get your teeth super white in no time. You know there will be some instagrammable moments where you will need to flash those pearly whites!
Hair Prep:
Instead of using a regular conditioner, I like to use something a little more intensive, so I go with
Pantene's Damage Detox Weekly Rehab.
This helps "reset" your hair by cleansing impurities, protecting from oxidative damage, and providing shine. This is a quick rinse-off treatment that you can do in the shower or bath. No need to sit around for an hour with the stuff in your hair!
No matter your hairstyle of choice, you will invariably be using some form of heat product, be it a blow dryer, straightener or curling iron. Make sure to protect your tresses with
Vidal Sassoon Pro Series Heat & Protect Shine Spray.
Not only does it protect your hair from heat damage, it also provides extra shine, and helps tame flyaways.
Makeup:
My makeup routine stays fairly simple, as I go with the classic one-two punch of a bold lip and thick dark lashes! (Think something like
this
or
this
). I'm in the market for a new favorite red lip, so feel free to leave me some suggestions! For lashes, I've been loving the new
CoverGirl Bombshell Volume by LashBlast Mascara.
On top of being a bit obsessed with the packaging, this mascara delivers a fun two-step system for dramatic lashes. Step one is an extreme volume base coat, and step two is an intensifying top coat. Let me tell you, that second step really works! Bombshell lashes for sure.
Now, what to wear for your "red carpet" moment? Just for fun, I've put together a little round-up of one of the hottest red carpet trends this year: gold dresses!
Left to right:
1
/
2
/
3
/
4
/
5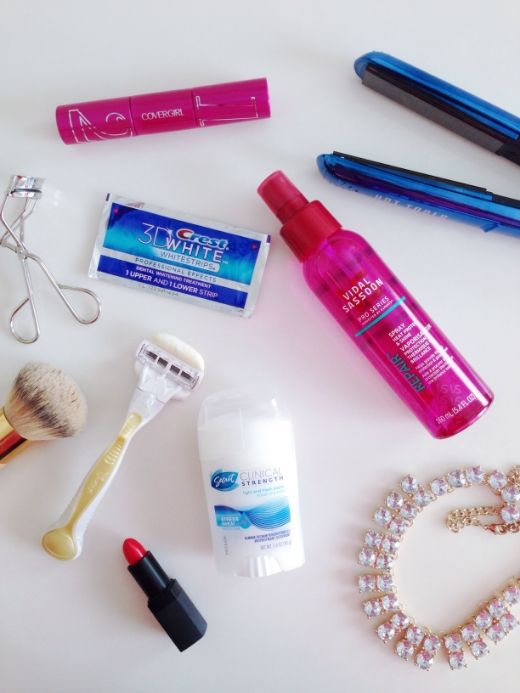 P&G beauty Products, when used together, can really help create the perfect camera-ready red carpet look! I hope you enjoyed this peek into how I get "red carpet" ready! Share some of your own favorite tips in the comments below!
I was selected for this opportunity as a member of Clever Girls Collective and the content and opinions expressed here are all my own.