The countdown is on my friends. We have one week, ONE WEEK, until the big day. We have been packing in all sorts of holiday fun this month, from Christmas light peeping, a handbell performance (don't knock it til' you see one-they are awesome), Nutcracker ballet watching, and of course, the annual Christmas parties. I picked up some great festive pieces to wear at
Old Navy
, and as usual they had a little bit of everything I needed! From sparkly tanks, great lbd's, dressed-up jackets, metallic flats and more-all at really great deals!
I picked up this great
classic crewneck sweater in "Peppermint Green"
, which I knew would be super versatile. I'm making more of an effort to bring some color back into my wardrobe, as it has been getting more and more neutral by the minute! Mint is such a fun and fresh color for winter.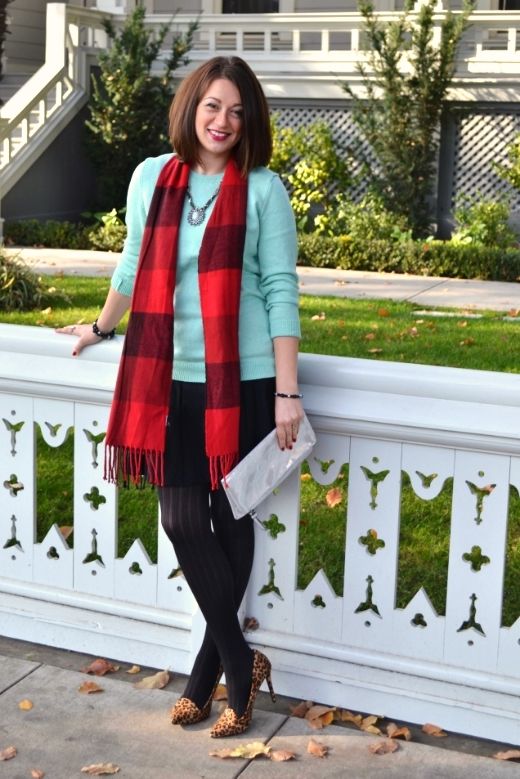 So let me be honest: I'm not that into "dressing up" anymore. I don't know how, when or why this happened, but if I'm not wearing some form of pants (read: denim) or a really cozy maxi, I feel like I'm off to meet the President or something. Maybe it is a curse from being a stay at home mom for so long. I don't know. I allllmost wore a pair of black pants with this outfit. But I thought "come on, it's the holidays for goodness sakes-get your act together!" Bam! Skirt and tights. *takes bow* I'm glad I put the extra effort in, it was a nice change of pace.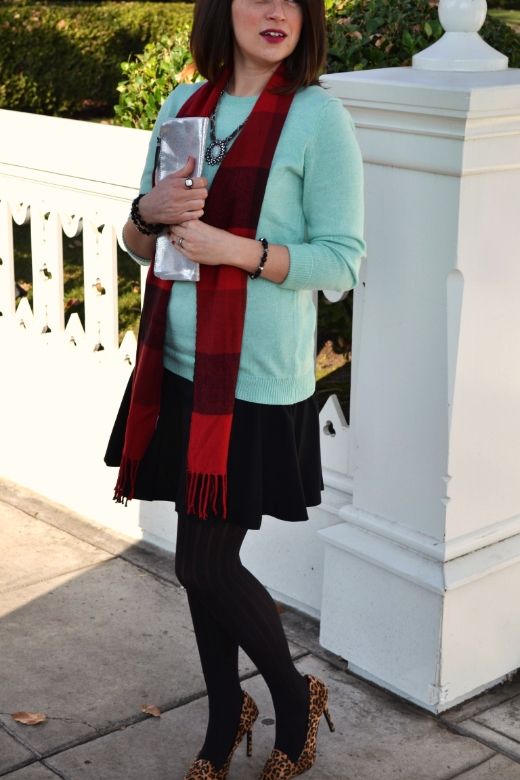 I also found this great plaid scarf at Old Navy, and I immediately knew I wanted to pair it with my leopard heels. Match made in heaven. Both pieces gave the perfect playful vibe to the outfit.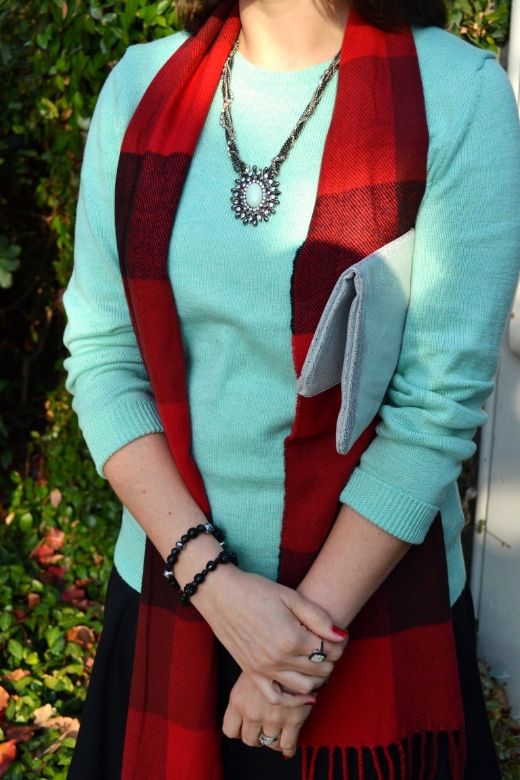 And for a little icing on the cake, I went for the
silver foldover clutch
. Every holiday outfit needs a bit of shine!
Before heading out to those final holiday parties this weekend, head over to
Old Navy
to pick up a few fun pieces to wear out!
Classic Crewneck sweater in "Peppermint Green" c/o Old Navy
Silver Foldover Clutch c/o Old Navy
Scarf c/o
Old Navy
(in stores)
Heels (
similar
)
Skirt (
similar)
Tights (
similar
)
Necklace
Ring (
similar
)
This post is sponsored by
Old Navy
. Check out Old Navy's latest fashion lineup in store or online at
oldnavy.com.