Guys, I've been a little (ok, a lot) on edge lately. With some stuff going on I won't get into here, and the girls starting school next week, which stirs up various emotions (sad summer is over, sad my "baby" is going to be in Kindergarten, major routine upsets, etc). Bottom line: I've been a hot mess. I knew I needed to take a serious time out, and really try hard to calm my anxieties down, and get my mind together! I know you all can relate here, because life isn't always the dandy, apple pie in the sky stuff that is shown on blogs, instagram, facebook, etc.
So here is what I suggest we do this weekend: take a time-out with yourself and make a conscious effort to let go of the stress for a night! Carve out a little time to yourself so that you can do a few things that will help bring back a little inner peace. Here's my simple ideas on achieving a stress-free night at home...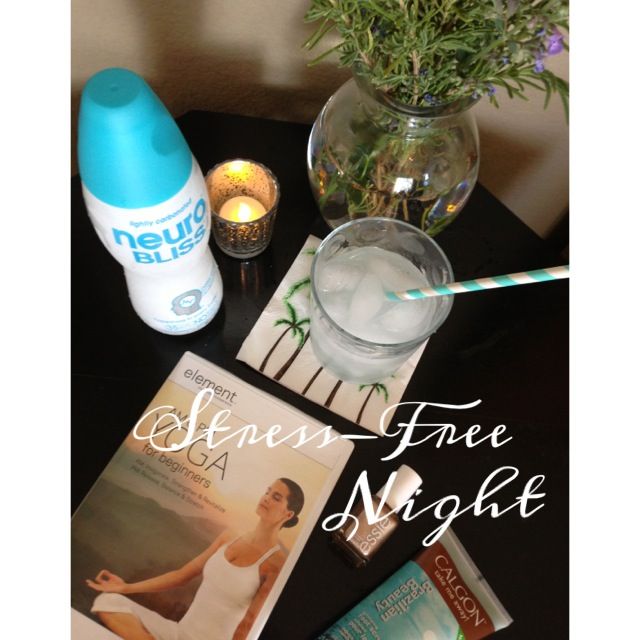 Step One
: Gather relaxing items from around your home to create a simple vignette for ambiance.
Don't make this too extravagant, we are going for simplicity here. Grab a few candles in votives, and some fresh clippings from your yard to bring a bit of nature inside. I happen to have a lavender bush in my yard, so I simply snipped some of that and put it in a vase. Bonus: the lavender scent is a natural de-stresser!
Step Two:
Pick an activity or two that you enjoy to do on your own, which helps you connect back to a calm state of mind.
One of my absolute favorite ways to de-stress and get my mind-body connection back on the right track is yoga. I seriously never feel better than after a great yoga class. I continue my practice at home on days I can't make it to the gym with guidance from a DVD. Other ideas are a DIY facial or pedicure-something that is pampering and rejuvenating! I personally love to use a good foot scrub, and then pick out a pretty polish color that will help lift my spirits when I see it peek through my sandals during the week. Sometimes it's just the simple things, right? Journaling is another great way to de-stress. Many believe putting pen to paper is one of the best ways to sort through your thoughts and feelings, and bring sense to it all.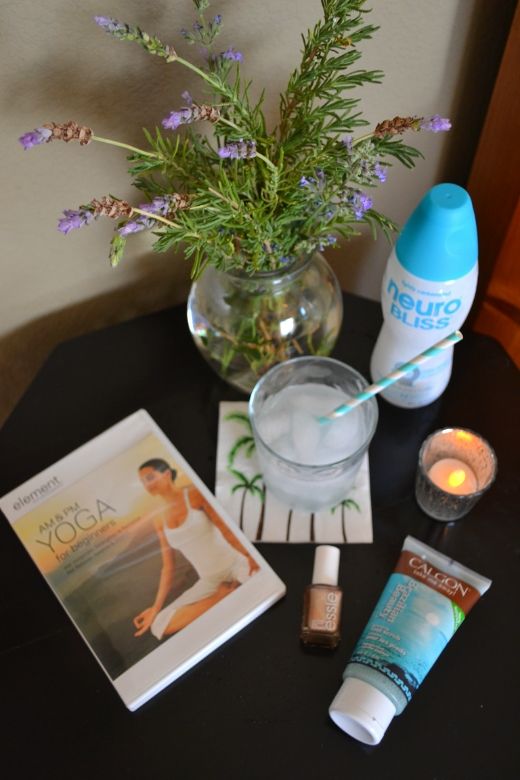 Step Three
: Pour yourself a refreshing drink to help aid in the relaxation process.
I recently noticed a drink at the store called
neuro BLISS
, which is specifically designed to reduce stress and relax the mind. I was intrigued, because I was never much of an herbal tea drinker, which is usually what I hear people turn to to relax. I tried it out recently and was pleasantly surprised at how delicious it was! It's light and refreshing, and I really do feel like it can take me down a few notches on the anxiety scale. Rightfully so, because the ingredients include chamomile, and a special blend of vitamins, minerals and antioxidants that have been found to reduce stress, produce relaxation and enhance focus. The cherry on top? Only 35 calories a bottle and no artificial colors or flavors.
Step Four
: Remind yourself you are not alone!
I know I can get really lost inside my own head sometimes, and it is healthy to realize that you are not all alone in your sea of stress! In fact,
neuro BLISS
created a handy little infographic with the cold hard facts based on a survey of 1,200 consumers:
Note to self: don't move to New York. Also, I need a vacation.
If you would like to try a bottle of
nuero BLISS
for your stress-free night, please use this $1 off coupon, valid on any neuro drink. They can be found at Target, Walgreens, Safeway, 7-11 and other national grocery stores.
I hope these four easy steps will help you relax and get back to that BLISSful state of mind we all strive to be in. As for me, I can't wait to indulge in a little me time this weekend. Remember, it's so important to take these little time outs every now and then! What are some of your favorite ways to de-stress?
I was selected for this opportunity as a member of Clever Girls Collective and the content and opinions expressed here are all my own.