I think I will dub this "The Summer Of Shorts" because I feel like there is nary an occasion that I haven't felt like whipping a pair out to wear! It may be because I have happily found two of the most comfy pairs of shorts I have ever owned thanks to Old Navy. I love when things happily fall into place with little effort, and that happened when I was in the fitting room recently trying to oomph up my shorts supply. I had a fat stack of all shapes, sizes, colors and prints and went to town. I was looking for one casual pair and one pair that I could easily dress up for a date night, and I found exactly what I was looking for!
Casual Shorts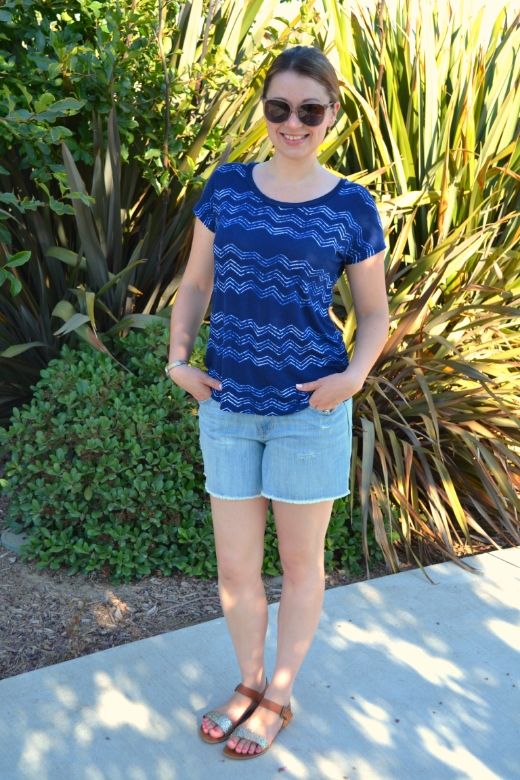 On my wish list: light denim, cut-offs, a tad distressed, not too short. Check, check, check and check! I really didn't think I would find anything that met all my criteria, so am thrilled that I did! I now know that with the extensive shorts collection at Old Navy there is pretty much no way you wouldn't find something that works! Like I've mentioned before, I don't even bother with shorts under 5" long, and luckily they have plenty of options in that category. In fact, the shorts page of the Old Navy website makes it super easy by breaking it down into inseam lengths so you can go straight to what you are looking for! They have 3 1/2", 5", 7" and Bermuda lengths.
I also picked up
this cute tee
while there. I couldn't resist the deep indigo blue (one of my fave colors), as well as the tie-dye effect of the chevron pattern. It is nice and loose and feels silky smooth so it is perfect for those extra hot days that have been in plenty supply recently. This was one of those days actually, can you tell I am melting in the heat?? We took the girls to the park and did not last very long!
Dressy Shorts
For my dressier shorts option I found this great
black and white ikat print pair.
These are so versatile, you can see how I wore the same pair casually during the day
right here
. This is how I dressed them up for a dinner out with my husband. I thought they would look great paired with a pop of neon, so I chose this fun pink button-up. For a hint of sparkle I added a thin gold belt and chandelier earrings. And of course, the ultimate date-night accessory: heels!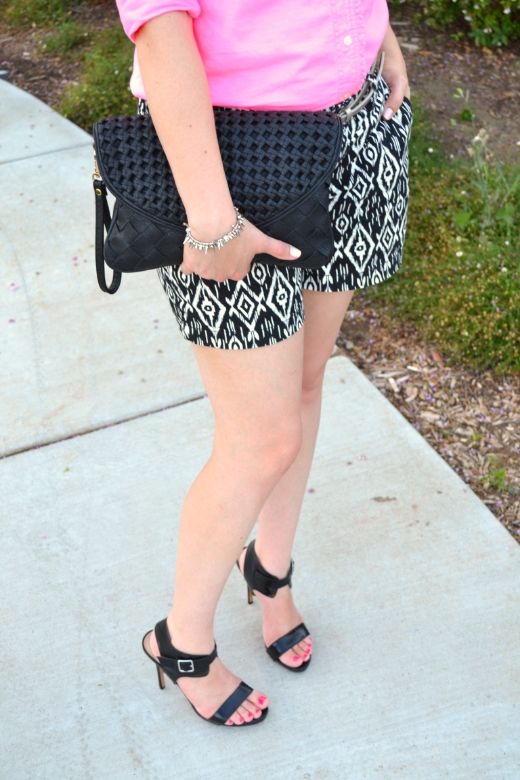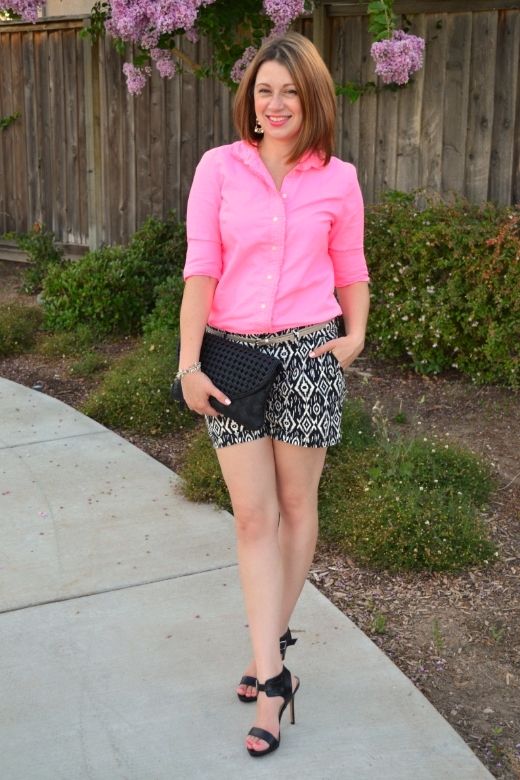 Casual Look:
Dressier Look:
Neon Button-Up: Gap (similar)
What has been your favorite style of shorts this summer? Have you checked out the selection at Old Navy yet? If not, you should definitely go and see what you are missing!
This post is sponsored by
Old Navy
. Check out Old Navy's latest fashion lineup in store or online at
oldnavy.com.