I shared this great pair of black and white ikat print shorts last week on
my under $25 round-up
, and wanted you to see them in action. I snagged these at
Old Navy
, and was so happy they fit me right, because honestly, shorts are tricky on me. They must be at least 5" long, which is what these are. I have tried some of the 3.5" inch styles and they hit at a bad spot of my thigh and do not look flattering! Just keeping it real here for you folks. These are perfect, they are super comfy and I love that they have a bit more pizazz than a regular pair of denim or colored shorts. I have plans to dress them up for a date night coming up so stay tuned for that!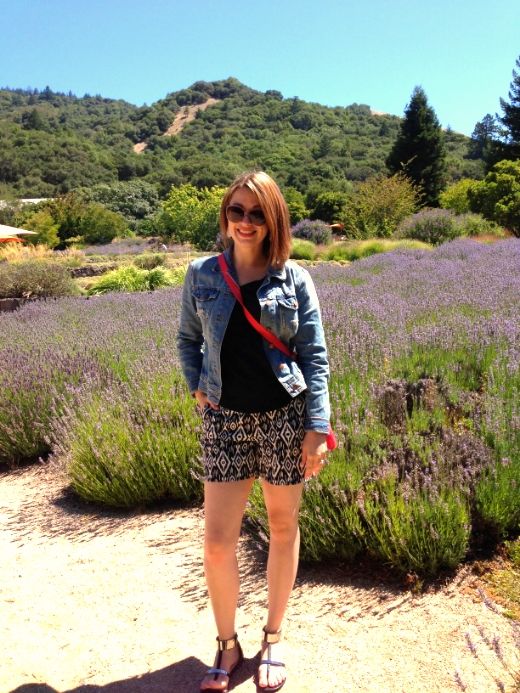 I wore this outfit on a day out with my mom and girls, celebrating my mom's birthday. We hopped over to a local lavender garden to explore, and my oh my, was it beautiful!
It looks a little hot in these photos, but it was actually a cooler day, so I had my denim jacket on. Over in Sonoma County the mornings can start off fairly cool (or even cold with the marine layer of fog that doesn't burn off until mid morning). I just love that type of weather, cooler mornings making way to warm afternoons and then back to breezy and cool evenings. It's perfection!
After touring the gardens we headed back into town for a birthday lunch at the new Bouchon SF they opened in Santa Rosa. We all loved what we ordered- I couldn't resist the butternut squash soup (I rarely turn it down-even in summer!) along with a ham and brie sandwich on sourdough. It was my first time eating there, and I must say, all the legends are true. Their bread is amazing!! My mom ordered a grilled cheese with brie, apples and fig jam, and luckily she let me munch a bit on hers too, which was divine. I can't wait to go back!
I
instagrammed
a bit from the day if you are interested in seeing some extra shots!
Denim Jacket: Gap
Sandals: Target
Purse: Target