Good morning friends! I'm excited to be featuring another fun and easy party idea I have put together for you incorporating two of my favorite things: coffee and friends! I love the idea of gathering a group of gals together to chat over coffee and a few simple treats. This is great for a weekend brunch, or even an early afternoon or evening weeknight get-together. It really is a snap to throw together, all of these items I purchased at my local Safeway store, and I decorated with items I already had around the house. Simplicity is key!
So if you haven't already grabbed your morning cup, go ahead and do so...then come back for all the deets!
First off, of course, is the coffee! Pick your favorite to serve up. For this party I used
Gevalia
, which I recommend, and is one of my faves for a smooth, never bitter taste. There are many different varieties and flavors, but I went for the traditional roast, to be....well, traditional!
Provide several different sweeteners for your guests- here I used honey sticks, Sugar In The Raw, Splenda and regular sugar. Put them in cute little bowls and dishes if you have them for a fun presentation. Have your guests bring their favorite coffee mug to use- it is neat to see all the different ones together and can be a great conversation piece. Don't you think you can learn a lot about someone by their favorite coffee mug?? I loved my friend's simple black mug that read "we're all connected".
Now, for the food! There is such a great variety of pastries and little cookies and sweet treats that make wonderful accompaniments to coffee. You may already have some tried-and-true favorites. I picked up a box of Entenmann's cookies, chocolate covered espresso beans, strawberries, powdered donut holes, blueberries and raspberries and ingredients to make French Cinnamon and Sugar Buns!
I slid the strawberries and donut holes on kabob sticks for a cute look. These were such a hit (especially with the little ones, but don't worry we didn't give them any coffee!).
Now get a look at these beauties! The French Cinnamon and Sugar Buns! These were so delicious-light yet still substantial and just the perfect touch of sweetness. They are super easy to make too!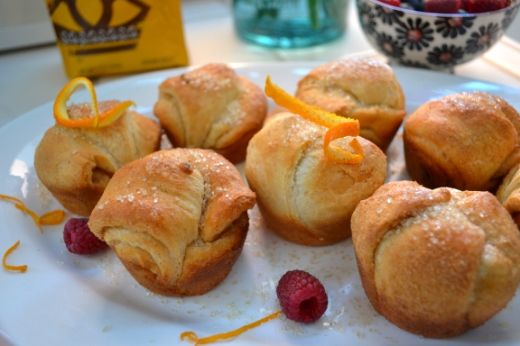 Ingredients:
1 tube of Pillsbury Grand Big & Buttery Crescent Rolls
1/2 cup brown sugar
1 tsp cinnamon
1 tsp flour
1 tsp orange zest
Optional garnish:
Butter to melt on top
Sugar in the Raw
Orange twists
Directions: Mix all dry ingredients together. Roll out each crescent roll from tube, and sprinkle a healthy amount of the cinnamon/sugar mix on one side. Roll up and place inside muffin tin. Continue until all rolls are used. Place in 350 degree oven, and eyeball until golden brown, remove. (Sorry, we didn't get an exact time, it's not very long though!) Place on serving tray. Garnish how you please, but here is what we did. Melt a little butter on top of each and sprinkle with Sugar in the Raw (the butter helps it stick). Make a few orange twists to place here and there. Add a few raspberries to the plate for additional color!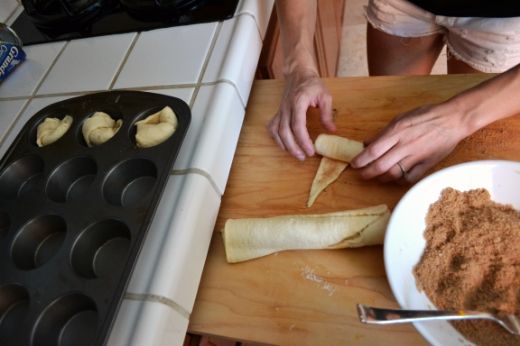 For the decorations-let the yummy treats and coffee mugs do most of the work! Get out all your pretty bowls and dishes to display your goodies on. For a few extra details, I used a piece of burlap as a table runner, and printed out
this free "But First, Coffee!" sign
and plopped it in an Ikea frame. I found it by doing a quick Pinterest search-seriously, you can pretty much find a free printable for any party theme nowadays. Labeling your food is always a nice touch too. The little signs I made were super simple- I just folded a colored index card in half, wrote on them as fancy as I could and added a strip of washi tape! Easy peasy! Finally, don't forget the fresh flowers. Some say it isn't a party without cake, but I believe it isn't a party without fresh flowers!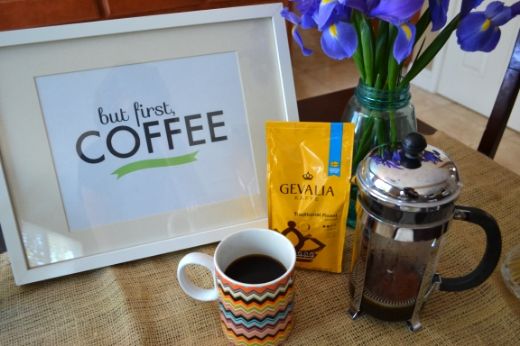 Now have fun and get to chatting over your yummy
Gevalia coffee!
I was selected for this opportunity as a member of Clever Girls Collective and the content and opinions expressed here are all my own.