You know what a girl who loves to wear her denim jacket over a dress in the colder months does during the warmer months? She switches to a denim vest, that's what! I like to keep my life as simple as possible, and when I get on a kick I kind of stay on it until it gets played out. I'm wearing all of the vests and dresses all of the times. Or something like that. Pretty sure I will be alternating between this look and
this one
all summer.
I found both the vest and the stripe tank dress at Old Navy. The dress is a ridic deal at $15. I'm contemplating buying at least one of the other colors as I have already thrown this one on about three times in the last week. It is comfortable and cool, which fits everything on my summer wardrobe checklist. I'm glad I am so easy to please.
For my local peeps, these photos were taken at
Murrieta's Well Winery
, one of my favorites in the Livermore Valley. It is nestled in rolling hills filled with vines, and has such a great old-world feel. I think it is the closest winery to make me feel like I am actually in the Sonoma area, which is mecca of all meccas.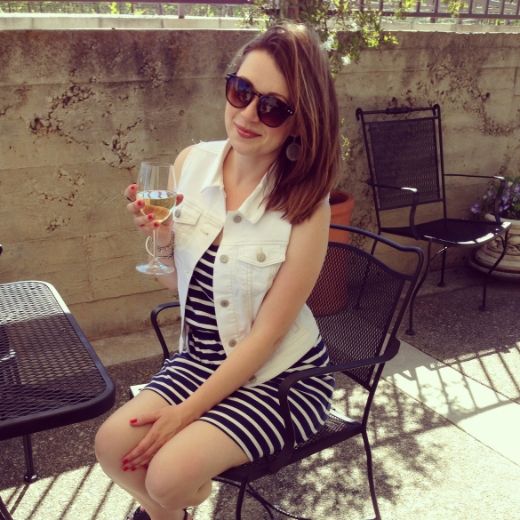 My husband and I sat out on this quiet little patio for a good twenty minutes, just listening to the gentle breeze. Blissful.
Wedges: c/o Old Navy (in stores not online)