Well hello there! Thought I would pop by on a Saturday to see how all of your long weekends were shaping up. Mine started yesterday, as my husband has Fridays off, and Natalie had a half day at school. We decided to get our fun started early with an afternoon in our backyard filled with appetizers, drinks, and grilling. I bought the girls water balloons, which kept them occupied for a crazy long time, and we really enjoyed our little selves. It put me SO in the summer mood right now. I want to grill all the things, and never go back inside again.
I have a new favorite destination to pick up everything I need for these amazing summer days spent outside. We have a local
Fresh & Easy
, and let me tell you, the store truly lives up to it's name. I'm sure you know by now, through my
Dress, Drink, Dine
series and if you follow me on
instagram
, that I love throwing together simple, fun little recipes and ideas for entertaining. I picked up everything you see below at Fresh & Easy, in half the time I spend at other supermarkets, and it was prepared in half the time too!
Fresh & Easy stores are a bit smaller, but are edited to perfection and organized in a way to get you in and out quickly. I also love their great prices and that they never use high fructose corn syrup, added trans fats or artificial colors and flavors in any of their fresh&easy brand products.
My husband and I did a happy dance when we discovered a whole refrigerated section at the front of the store that was called "Grilling Central", and we practically just wiped all of that out in one fell swoop! We picked up tri-tip, baby back ribs, a cherry pie, and my favorite- a pack of jalapelño poppers and a pack of asparagus in herbed butter, that you just plop right on the grill to heat up! It was ridiculously "f&easy" (have you seen/heard the commercials? I can't stop singing
this song
)! We would have been wandering around another store for like an hour hunting all that stuff down.
Back home, here you are entering man territory-the grill!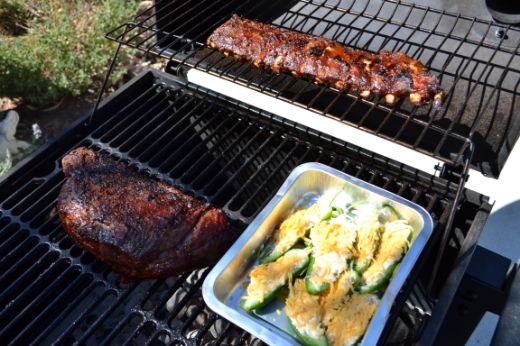 Now for my girly area-the apps!
Appetizer spread:
-1 jar of greek olives
-1 jar blue agave tequila salsa
-tortilla chips
-1 tomato balsalmic flatbread (heat up in oven for 10 min)
-jalapeño poppers
Drink: Simply 7-Up and Pineapple juice mixed together! Grown-ups can add your favorite "sauce" to the combo.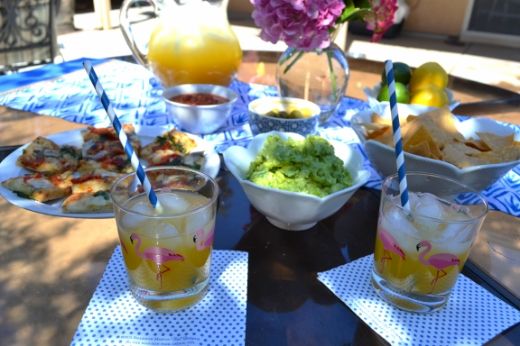 Behold the jalapeño poppers. These were the star of the show-so delicious. They were stuffed with cream cheese, cheddar cheese and bacon, the jalapeños were crisp and fresh and it tasted like we had just made them from scratch. Not at all like the gross frozen versions out there.
Dinner:
tri-tip
baby-back ribs (the girls devoured those before I could get a pic)
corn-on-the-cob (these were so sweet they didn't need a darn thing added to them!)
asparagus with herbed butter
salad mix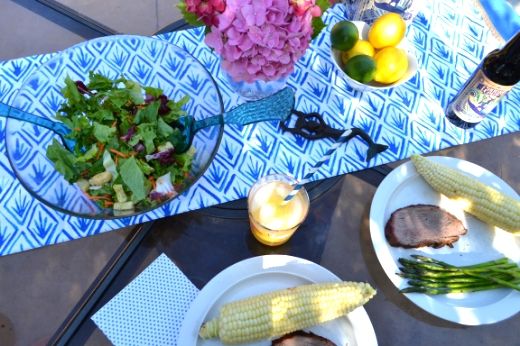 They also have a great selection of craft beers and wine, and my husband let me pick him out a new brand to try, so I obvs went for the cute packaging. I mean come on guys, it's a Boston. Riding a rocket.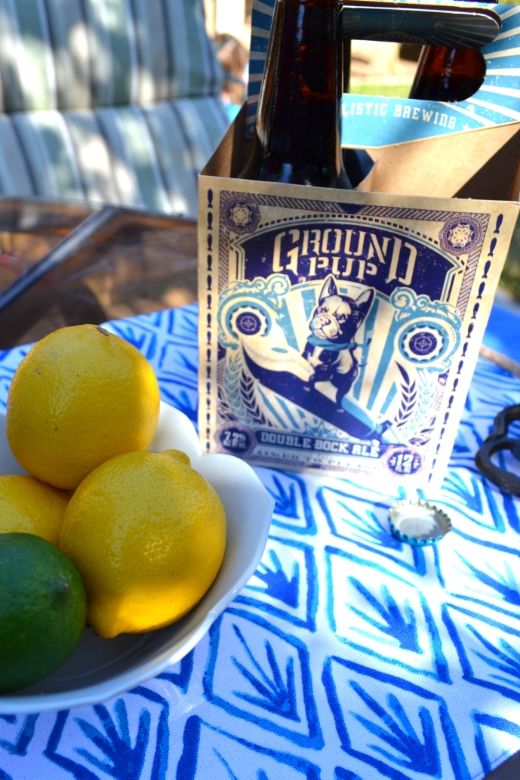 So friends, I suggest you check out your friendly neighborhood
Fresh & Easy
, you won't be disappointed. You can check store locations right
here.
And to get you started on your way, I have a special $5 off coupon for you! Just click
here to be directed to a printable coupon
, which is good for $5 off a minimum $20 purchase, and expires June 6th. Alsowhen you are there at the store, be sure to sign up for their
rewards card
, which I did. You get personalized coupons and earn points with every trip that you can convert into cash off for your future visits!
I'm already planning my next afternoon grilling in the backyard, and am also dreaming up a wine and cheese tasting (shocker, right?) with their amazing selection of wines and cheeses. Let me know what you pick up when you go, and if you instagram any of your trip, tag it #fneasy! You can check out my cart full of groceries from yesterday on my
instagram page
. Happy summer entertaining friends!
I was selected for this opportunity as a member of Clever Girls Collective and the content and opinions expressed here are all my own.