My love for wine is no secret-my friends, family and all you loyal social media followers are well versed in my obsession. (There is nary a wine tasting trip or at-home wine and cheese spread that I don't instagram). At the end of a long day of mom duties relaxing with a nice glass of wine has become my favorite evening ritual. I have jokingly referred to it as my anxiety medicine, because honestly fellow moms, don't you feel a little wound up at the end of the day?
When the opportunity arose to sample a few bottles of "MommyJuice" wines I thought, um hilarious name, send them on over!
MommyJuice wines are owned and made by a mom in the Central California coast. The selection consists of one white and one red, which is convenient because it helps take the guesswork out of which varietal to pick up. Sometimes it is fun to take the time and make a very detailed selection, but then there are those times when you are racing through the store and don't have much time to think about it (i.e. the kids are fighting), and need to make a quick and easy choice. Another little convenience I can appreciate is the screw top. Why fumble around with a wine opener if you don't have to?
The white is 100% Chardonnay from grapes grown in Monterey, California. If you know and love Chards, they generally fall into two categories: warm and oaky or crisp and fresh (which are usually aged in a stainless barrel, not oak). To me, this white falls somewhere safely in the middle, making it a very versatile everyday wine. In warmer months I always turn to a chilled white wine.
The red is a mix consisting mainly of Cabernet Sauvignon and Merlot. It has bold berry notes, and a mildly dry, yet still smooth finish. This is the perfect red to pair with a big juicy steak dinner, and I think Daddy would love this one too!
All in all, I think these are fun to try based on the theme, and their $10 or under price point makes it easy to do so. Gifting one to mom a would surely lead to some laughs, and an enjoyable time sharing the bottle! Cheers!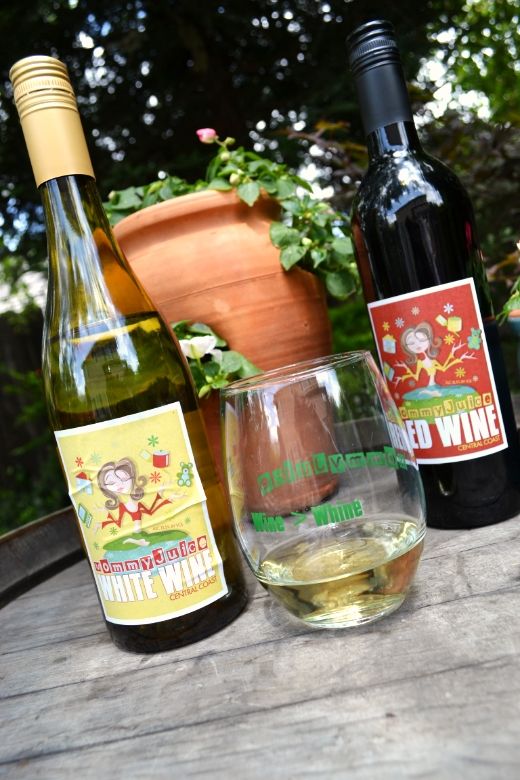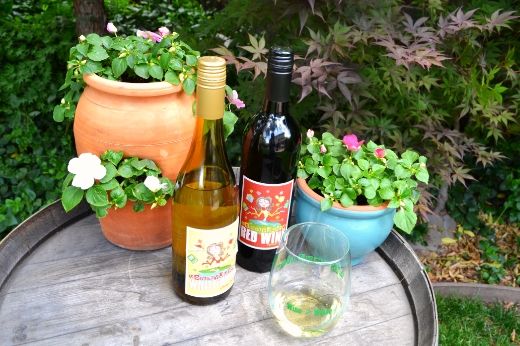 And for fun, I figured out how to embed a vine video! Are you on vine yet? It is pretty fun, directing little six second videos. My friend and fellow mom Erin has a beautiful backyard, and she kindly let me use it as my backdrop for this little shoot. I'm loving the wine barrels that she uses as tables in her yard!
MommyJuice wines are available at select CVS Pharmacy stores, Northern California Target stores and various retailers nationwide. Wine and Mother's Day gift packs are also available at www.mommyjuicewines.com.
MommyJuice is also having a fun Facebook giveaway going on now for a set of their wineglasses. To enter, simply post a photo of their wines on the shelf at your local CVS on their Facebook wall! Five winners will be chosen at the end of May.
I was selected for this opportunity as a member of Clever Girls Collective, and the content and opinions expressed here are all my own.