Ahh, my good ol' stand-by outfit: stripes, skinnies and riding boots. I would say this is what I look like 90% of the time, in different color variations. You will see this sweater again in yellow and gray. I will probably pair it with dark denim skinnies. Possibly the same boots. When something works for you, I don't see anything wrong with wearing it as much as humanly possible.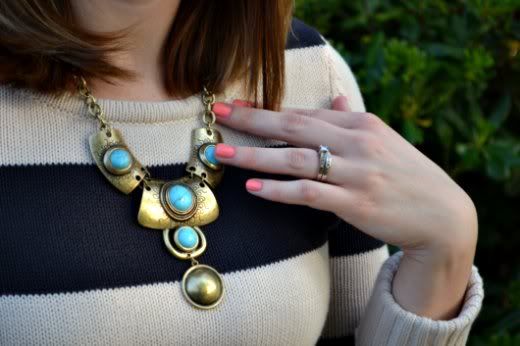 What makes it feel fresh and new is how you accessorize. I found this amazing necklace at Forever 21 for-wait for it- $9. It reminds me of
this Dannijo piece
, that would set you back a considerable amount more. If I could afford it, I would have a jewelry collection full of
Dannijo
pieces. And
Lizzie Fortunato
pieces. But until then (aka never), I am more than happy to find Forever 21 replacements.
I get a major Cleopatra vibe from the necklace. Which of course reminds me of my favorite 80's song "
Walk Like An Egyptian
". Those Bangles sure knew how to party.
Necklace-F21-couldn't find online, but def try in store
Nailpolish-
Julep
"Alicia"