Last year I found these antlers at an antique fair for $20. I'd been wanting a pair for many many moons and was happy to find such a great deal. I knew I wanted to give them a face-lift though. The tacky forest green velvet and dark wood-grain plaque weren't workin for me.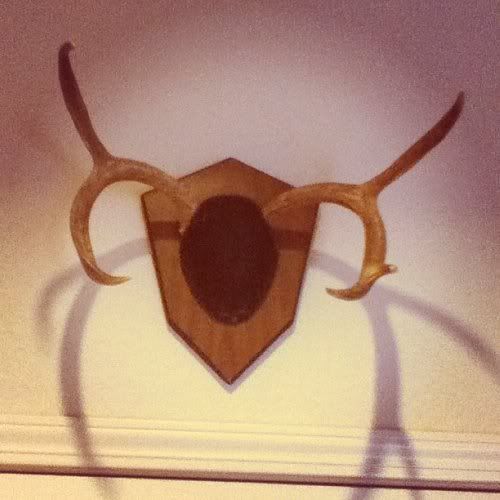 I put it on the back burner for awhile, but pondered on what I would do to spruce it up.
Then one day it clicked. I took inspiration from one of my favorite photographers,
Kari Herer:
This
has long been one of my favorite prints of hers.
Here is how I re-interpreted it for my own:
This could not have been easier. I simply covered the antlers with plastic bags (I used Target ones-they are nice and thick and never have holes!), taping them tightly around the base so no spray paint would get leak through. Next I spray painted the base plaque with several coats of white glossy spray paint.
I found a big giant flower at Joanne's for $5, cut off the stem with scissors, and hot glued it right on top of the green velvet. I was worried about it not adhering well, but so far so good!
A super simple project that costs next to nothing. Let me know if you try it out for yourself!