Thank you to California Grown for encouraging me to connect with California growers and encouraging California consumers to "Choose California Grown" when they can.
Recently I was given the opportunity to enjoy some of my beautiful home state's bountiful harvests. As you know, I love California, and blog about my adventures here so that I can convince all of you that you should live here too. Not really, but I do love sharing what our state has to offer with you all. I think it is fun to get glimpses into how people are living across the country. It's no secret that California has a booming agricultural business, and living in the Central Valley I am right in the heart of it: I'm surrounded by orchards and farms, and am so lucky to be able to shop local grown food year-round. I have at least twenty small, family-owned farm stands within a ten mile radius. I find it very important to support local California businesses, not just to help our local economy, but also because the food and/or flowers are much fresher that way. Eating local is a big movement now you know, so get in on that! For my review, I chose to receive a bouquet of hand-cut flowers.
They arrived on the perfect day-I had just came down with a nasty virus (body-aches, chills, the whole bit) so these brightened my day when I really needed it.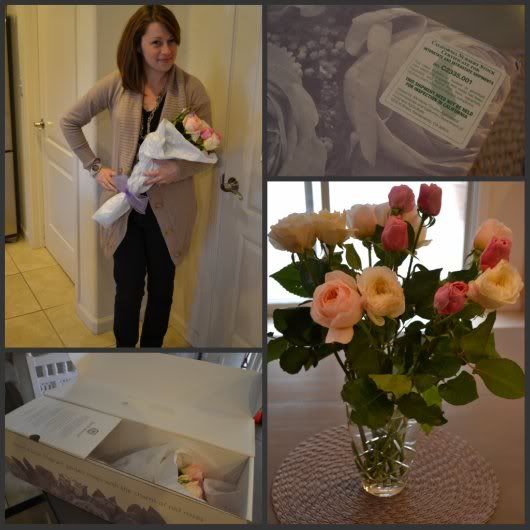 In a box this nice, you know the flowers inside must be good!
Normally when I buy a grocery store floral mix, I split up the miscellaneous blooms into several smaller bouquets and add them to different rooms throughout the house. These 15 rose stems were just too pretty to split up, so I put them in my favorite vase and placed them in the center of my kitchen table where I could enjoy them all day.
Several days later, after they begin to lose some petals, I like to take the stems that are still in good shape, cut them down and add them to a smaller vase, such as a mason jar. I have found that this makes them last just a tiny bit longer. I put them in my kitchen windowsill to cheer me up while I'm doing dishes.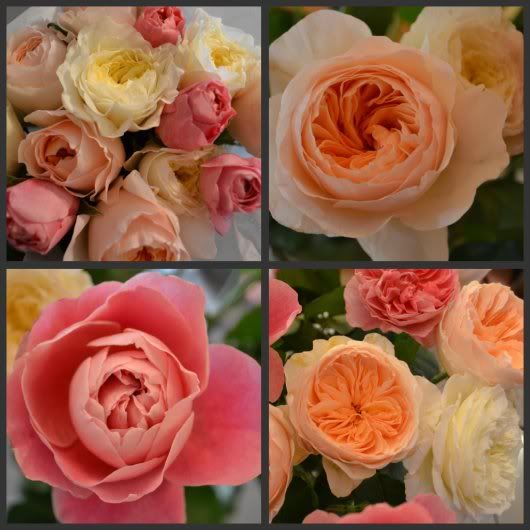 I seriously wish you all could smell these photos, because the scent was unbelievable. They had such a strong, beautiful scent that even through my stuffed up nose I could still smell them. I couldn't taste my Thanksgiving dinner, but at least I could smell these roses!
This particular bouquet came from a grower in Salinas, California. You can watch a great little video profiling the grower
right here
(if nothing more for the gorgeous floral shots!)
For my fellow Golden Staters, I thought I would include some of these facts from the California Grown website that I found interesting:
California is home to more than 250 flower farms.

California produces more than 75 percent of the cut flowers that are grown in the United States. (Seriously??!! Wow.)

California's flower farms have a $10.3 billion economic impact in California and the United States. For every dollar a California farmer earns, 92 cents goes right back into the local economy.

California cut flowers meet the strictest growing standards in the world.

Nationwide, consumers purchase an estimated $17 billion of floral items annually.
So when considering California Grown products, don't forget the floral industry as well! Products at your local supermarket should be labeled California Grown, but if you do not see the label, ask your grocer and they should be able to tell you which products are. Let's all remember to support the state in which we live and love!
*All images via Sweetie Pie Style
Thank you again to California Grown for sponsoring this blog post. Please
click here
to learn more about all of California Grown growers. I was selected for this sponsorship by the
Clever Girls Collective
. All opinions are my own. #CleverCAGrown #spon