Thanks to Tervis for sponsoring my writing. Visit their website
http://www.tervis.com
to learn more about the world's first smart cup.
I recently shared the pictures from my 30th birthday party, and today I wanted to share with you my tips on how to throw a stylish party on a budget. There are so many beautiful, extravagant ways you can throw a party these days, but nothing says you have to break the bank to do so. I had a strict decor budget for my party, but I did not let that stop me from having the party I wanted. It just helped me use my creativity to come up with ideas that were cute and budget-friendly.
Here are some of the tips I have for you when planning a party on a budget:
1. Use What You Have-In the Kitchen
This is BIG people, BIG. The number one way to save money on a party is by incorporating things that you already have around your house in your party decor. There are many things you have right now in your home that can easily fit into any type of party. Here are a few ideas from my party, which had a rustic country-chic theme:
I decorated empty wine bottles with vintage lace I had on hand to create vases for my table centerpieces. Cost=$0
We used wine corks wrapped in twine with a card slipped in between as labels for the food and drinks.
Cost=$0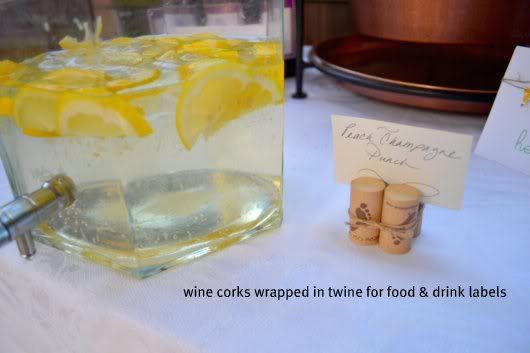 I saved up spaghetti sauce jars and pickle jars and used them in various ways: to hold wooden skewers on the s'mores table, one I filled with glitter and a votive candle, one was used as an extra little vase. The options are endless!
Cost=$0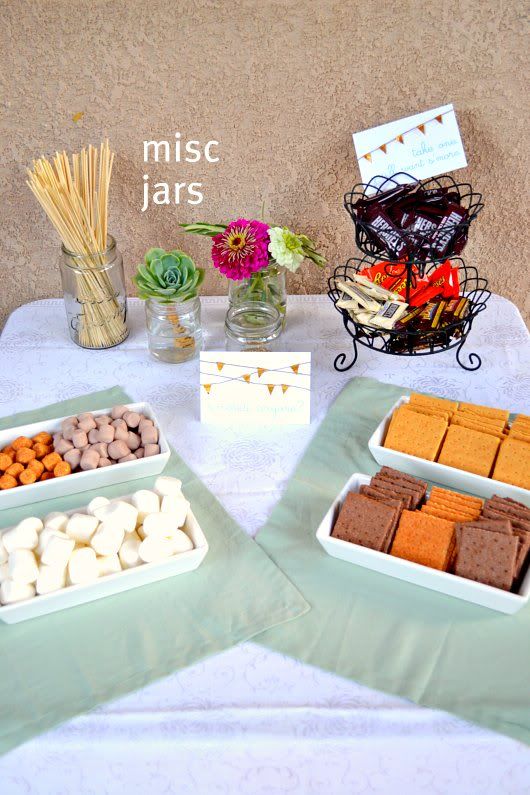 I already owned glass hurricanes and glass lidded jars that I ended up using on the tables. The glass lidded jars were in my kitchen holding rice, flour, etc., I just emptied them out to use for the party.
Cost=$0
Always take an inventory of what you have before going out to buy anything. Use that pretty vase you got from your wedding registry, use your favorite candlesticks that you have on your mantle, use your vintage milkglass collection. Whatever it is...use it!
2. Use What You Have- In Your Yard
I found a good size tree branch at my inlaw's house and had my husband saw it into slices. I then sat them along the tables and put candles on top. I loved the woodland look!
Cost=$0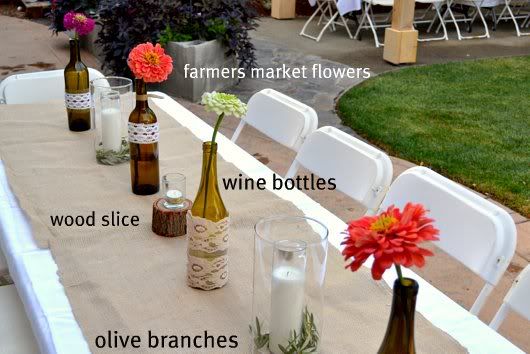 I have several olive trees in my backyard, so I cut a few branches and placed them in glass hurricanes for a touch of green. I also used branches as fillers in the bouquets in the chandy.
Cost=$0
Also from my yard were all the succulents. I have quite the succulent garden growing, so I pulled up a few I wouldn't miss and used them throughout the party as well.
Cost=$0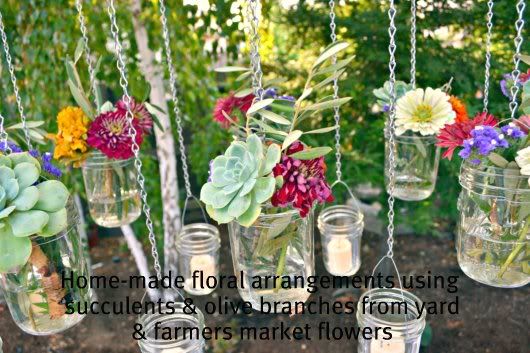 3. Use What You Have-In Your Office/Craft Supply
When deciding how to decorate the front door I decided I wanted a giant, sparkly "30" to display. I looked around a bit online, but without finding what I wanted I decided to make it myself. I found a big piece of cardboard from a recent UPS delivery, then free-hand drew the lnumbers on and cut them out. I spray painted them gold, then covered them in Mod Podge and sprinkled with glitter. Voila! Door decor on the cheap.
Cost= $8 for spray paint and glitter
4. Check Your Local Farmer's Market
When in season, your local Farmer's Market may have a great selection of flowers at incredible prices. I found the giant zinnias I used on the tables for 5/$1! I couldn't believe it!! I then found smaller bunches of flowers that were $5/bunch, and bought two for my chandy arrangements.
Cost=$13
5. Hit Up Your Local Dollar Tree
Since my party was outdoors and it would be at night,. I was relying on loads of candlelight for a pretty ambiance. Pillar candles can be expensive, so I found great tall candles in glass holders for only $1 at Dollar Tree (what other price would it be, right?!) They were with the religious, alter-style candles; I was happy to find plain ones too! There are many ways to get creative with items from Dollar Tree, so take a look around and see what you can find.
Cost=$4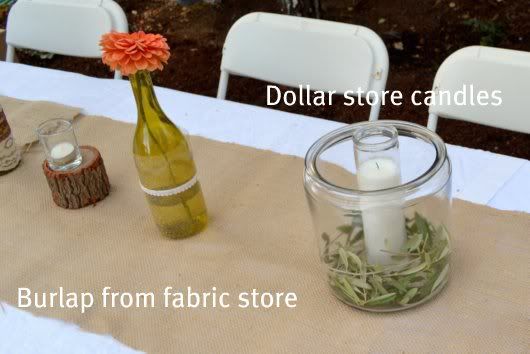 6. Visit Your Local Fabric Store
Fabric stores are a great place to pick up material to make inexpensive table runners or table cloths. I chose to use burlap to go with my country-chic theme, but there is literally something in every color and pattern imaginable to fit your theme. Simply order a few yards depending on your table sizes, cut them to size, and sew the edges (I didn't even sew mine-I left the edges frayed to add to the rustic theme). Most fabric is wide enough to where you can cut it in half to really make the fabric go the extra mile. I ended up buying a little under two yards, and had a 40% off coupon.
Cost= $8.
7. Borrow From Friends & Family
When you have a large guest list that will require you to bring in tables, chairs, extra silverware, dishes, etc. ask around first to see if anyone has things you can borrow. We were able to borrow 3 six-foot tables, white tablecloths, wine glasses, copper ice buckets, and giant throw pillows for my party. This saved us lots of dough.
Cost=$0
Along the same lines...
8. Enlist Your Talented Friends to Help
Have a friend who loves to bake? Ask her if she would like to make your cake. Supplying her with the ingredients is much cheaper than paying a baker to make you one. Have a DIY queen who can help you with decor? Hit her up too! Don't be afraid to ask for help-you'd be surprised at how ready and willing people can be!
I hope this has given you some food for thought on how you can decorate your next party while on a budget. Just remember-use what you have, borrow what you can and be creative!
I was selected for this sponsorship by the
Clever Girls Collective
. To learn more about Tervis, visit their website
http://www.tervis.com
.