I'm so excited to share with you a kitchen update today. I've been a busy little bee, knocking one thing after another off of my to-do list. After I made my master plan, I prioritized exactly what order I wanted to do things in. The first thing I wanted to accomplish (after the dining table re-do that started it all) was lighting. I decided to order a lantern-style light for over the dining table to replace the builder-grade one that I've lived with for nine years. Here is the light I had that I could not wait to get rid of:
In my web searches for the perfect lantern-style light, I found myself repeatedly coming back to the
Shades of Light
website. They have a comprehensive selection at various price points and I found the perfect one for my space right away:
The Heritage Hanging Lantern in black.
I still did more searching as to not jump the gun, but it really had me at hello. You have seen it before in one of my kitchen moodboards:
She's a looker, no? Needless to say, I was beyond thrilled when
Shades of Light
sent one on it's merry way to me to review here on the blog. From placement of order to arrival on my doorstep took only 5 days. It came in a huge box, which is always exciting, and I immediately pulled it all out to make sure it was in one piece. It was!

I put my husband right to work switching out the two lights. Miraculously it went off without a hitch. We were both nervous because we have never dealt with electrical wiring before, but it ended up being fairly simple.
I love the way the new lantern looks!
Due to the location of the light right in the middle of the open floor plan, I had decided I wanted a clean and simple look. This lantern is just that, yet with enough stylistic touches to make it interesting. The black finish ties in nicely with the rug border, as well as the curtain rod in the family room. It also ties in with a few other components in the kitchen, but those will be revealed in a later post!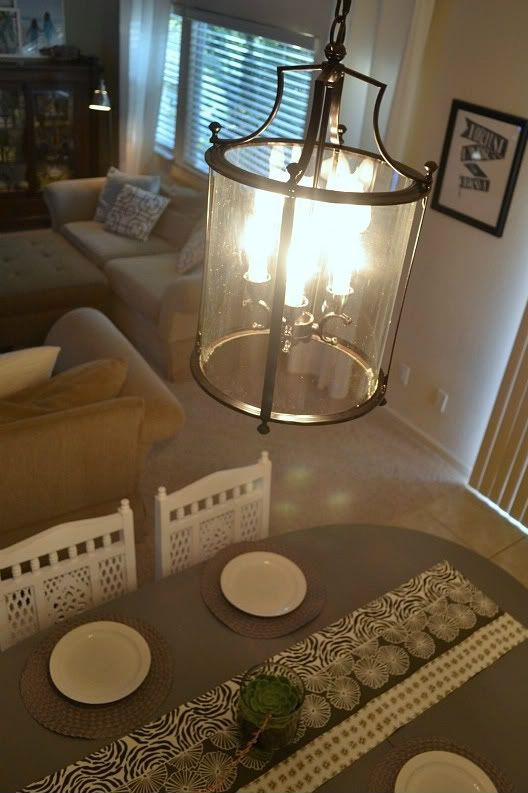 One of the features I love on the lantern is that there is no bottom piece of glass. That way no dust bunnies and dead bugs can settle in it, which happened with my old light.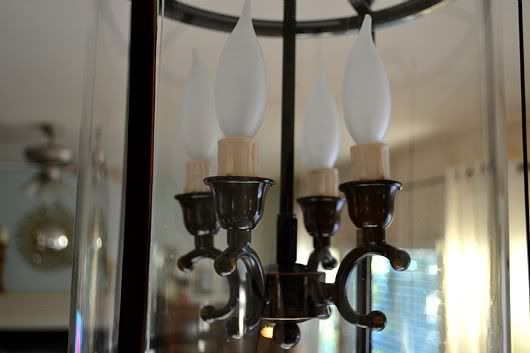 Here is a close-up of the detailing. I love the faux candle-drip accent and chose bulbs to mimic the look of a candle flame to play off of that. It's hard to tell in the photo, but the curved glass panels are lightly seeded, giving it an antique look. The finish is a blackened bronze, and you can see areas here and there where touches of bronze are showing through. This is only on closer inspection though, which I like. From further away it appears to be solid black.
I love the shadows it casts on the ceiling, which adds a whole other dimension to the light fixture itself. Overall this lantern is very well made and of high quality, at a very reasonable price point. Lots of bang for your buck with this one my friends. I'm doing the "I made a great decision" jig over here.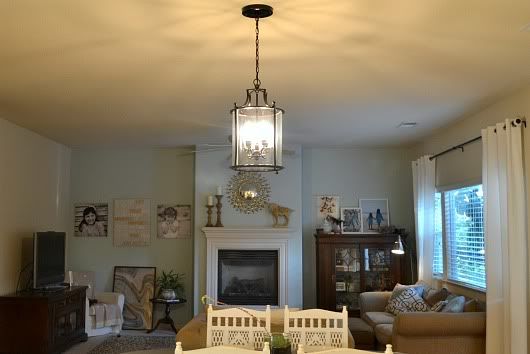 One last shot so you can see how it ties in nicely with the family room. I'm not showing any shots looking into the kitchen because it's not quite ready for it's close up. Step-by-step I will reveal more as items are accomplished.
All in all, I am very pleased with my
Shades of Light
experience. From the wonderful selection of products on their website, to their friendly customer service and fast shipping, to the overall quality of the lantern itself. Two lantern-loving thumbs way up!
And to re-cap, here's what has been happening in my kitchen so far:
The Inspirations
The Master Plan

The opinions in this review are my own, and are in no way influenced by the company Shades of Light. The Heritage Hanging Lantern was sent to me free of charge by Shades of Light for the purpose of a blog review on Sweetie Pie Style. No other compensation has been accepted for this review.