I hired a new photographer to take my pics while on vacation over the weekend. She scouted locations, searching for the best backgrounds and lighting, and gave loads of direction- "Chin up! Now chin down! Look left! Now right! Think about something nice! Think about clouds!" She was awesome. Her name is Erin if you want to hire her out.
This is the magic that happened after I thought about clouds. Or maybe it was from the afterglow of a wine tasting. Who knows.
This was from the first night of our trip-we had gotten dressed up to do some wine tastings and then have dinner. little did we know that most of the tasting rooms close at 5, and we didn't get downtown until around 6. Luckily we found one guy just about to close and convinced him that we needed a tasting. We didn't just drive three hours to go to dinner without a wine buzz!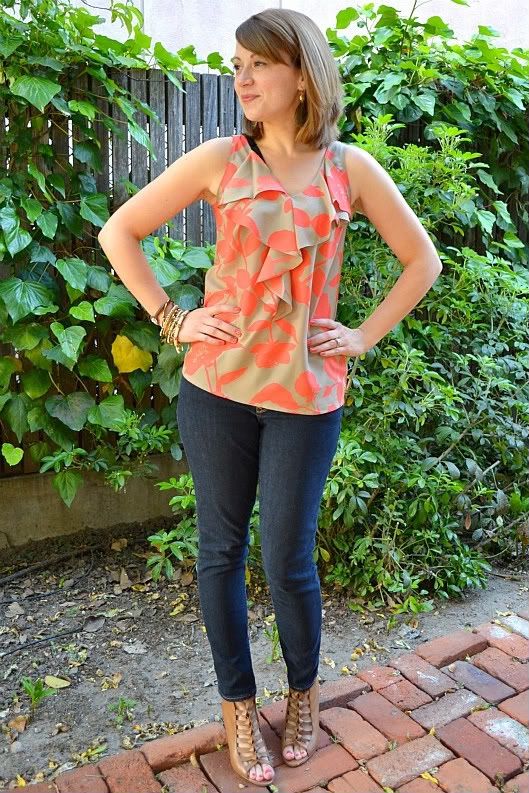 We asked him where we should eat dinner and he suggested we try the Dry Creek kitchen. He said it may be hard to get in without reservations, but of course that just made us more adamant about getting in.
We headed over and I shoved my friend to the front to work her magic with the hostess. She is better at buttering people up than I am. The hostess kindly looked through her bookings and informed us that there was one table available, but that we would need to be done for another reservation to come in at 8:30. It was a bit after 7 so we said we could totally do it.
And holy best meal of my life am I glad we ate there! Super pricey and fancy, with tiny servings, but I seriously never knew that certain flavors could taste so good in your mouf. Halibut with hamhocks and peas?! Oh yes, it tasted like heaven my friends. Trust.
At around 8 a gentleman of the house (wtf is that?! did I just make that up?) came by our table and offered us a "wonderful opportunity" to enjoy complimentary desserts in the Fireside Lounge. Aka, they were kicking us out to get ready for the peeps with the reservations. I couldn't care less. Free dessert tastes good no matter where you are enjoying it. I must say it was the most uppity, fancy-pants restaurant I have ever dined at-but I loved it. Gonna be hard to go back to Mickey D's, that's for sure.
Bracelets-