Okay, I think I have finally recovered from the
30 for 30 Challenge
and am ready to start posting wardrobe pics again. That, and I wanted to show you my new haircut actually styled-which as you can see I have fallen back on the good ol' straightener. I'm working on taming the wikld beast that is my wavy hair in the proper way, so unitl I get it mastered I'll be straightening it for a bit. Thanks for all the great tips by the way. I plan on buying some of the products you guys mentioned-like Moroccan oil (Thanks
Shan
) and It's A 10 leave in conditioner (Thanks
Bethany)
.
Okay, so my husband and I had a date night last Friday. We met up with another couple and had dinner and Margs at my favey Mex restaurant. When we were done there we were trying to come up with a bar to go to, and guess what we settled on? The Marie Callender's bar! Our reasoning? It was in the same parking lot, and we were already close to home, so why go any further? Yeah, I was definitely feeling my age at that point. But we had fun, regardless of the 85 year old ladies who came in with their gentlemen friends to order their favorite hot tea. No joke. Drinkin it up with the elderly folk on a Friday night! Yeehaw!
This is one of my favorite tops. It's a tiered silk tank I bought it at Forever 21 last year (which they are closing my local one for renovations for six months-yikes!) and has little sparrows all over. I love me some sparrows.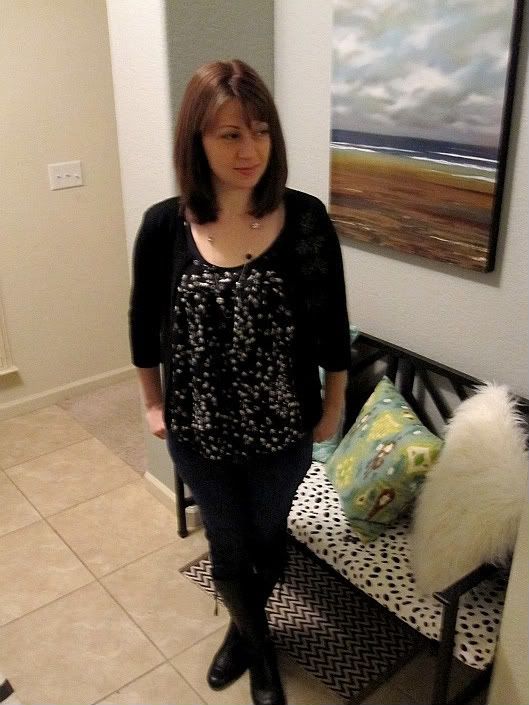 Wearing my go-to skinnies from Old Navy and go-to boots from Enzo Angiolini. What can I say, when I like something I will wear it to death.
The cardi and necklace were both gifts.
I'm really looking forward to some Spring outfits, as I am pretty much over winter like everyone else. I have a hard time buying any winter clothing after January because I feel like I would just rather wait for the warmer weather to come and buy clothes then. Are you the same way? Or should I not be holding my breath? There are a lot of great sales right now. Oh well, I'm having fun compiling my list of Spring must-haves in the meantime.