I ran outside real quick before the sun went down to take a few pics of my outfit for a night out of dinner and drinks with some friends last Friday. Our camera wanted us to use the flash, but we didn't (nothing looks that good with a flash peeps-just sayin) , so they turned out slightly blurry. Kind of like my state of mind because I had already had a few glasses of wine.
Yes, the skinny jeans return. They are pretty much my going out staple. If I'm feeling squirrely I'll wear a dress. Actually, I'm more of a daytime dress wearer come to think of it.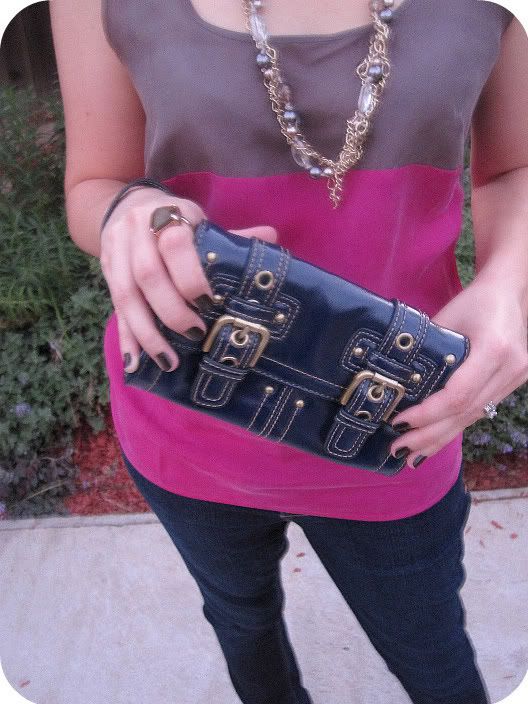 I love the color combo of this silk tank from LOFT. For my bday my mom and I went there to go shopping. I had been wanting to check out a store in person-the closest one being about an hour away. I would never attempt that on my own with the girls, so since my mom was in town we tag teamed them and took the trip up there. It was so worth it-I walked out with a giant bag full of goodies I can't wait to start wearing. Thanks mom! BTW, they have kids books in the dressing room-major life saver. Oh and bottles of water too-another major life saver. Marathon shopping can make a gal thiiiiirsty.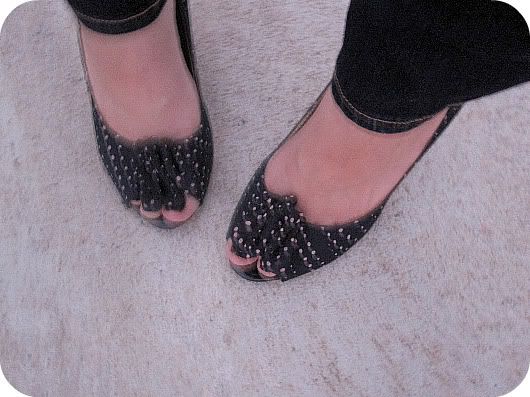 Blurry shoes! Huzzah!
Top & Necklace: LOFT
Skinny Jeans: Old Navy
Clutch: Rafe for Target back in the day
Shoes: Payless back in the day
Nail color: Essie's Little Brown Dress