My entry has officially come the bane of my existence. I've been planning a re-do for what seems like forever (check out my planning posts
here
and
here-
from almost a year ago!), but nothing has gone according to plan. First off here is the before: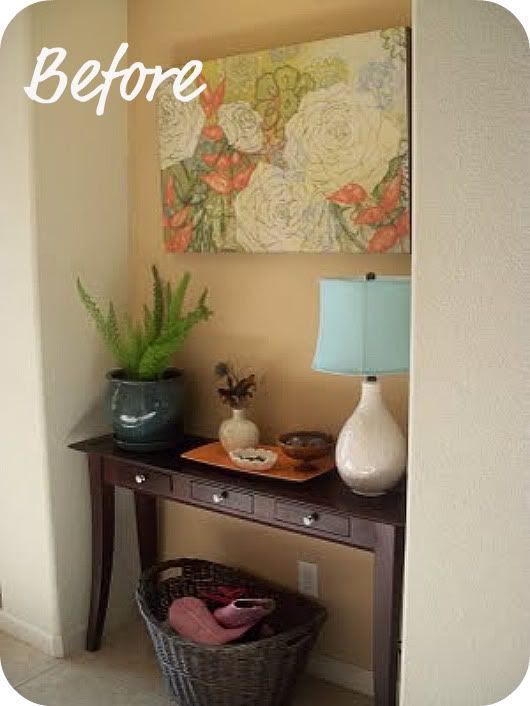 If you read my posts above, I wanted to make this little alcove a seating area. So when I finally made the decision to purchase the white bench I had found for the space, it had sold out online. I couldn't find another like it for the same low price, so I kind of just gave up and forgot about it for awhile.
Cue to several months later and I got the entry itch again. Having the short attention span I have, I decided to forget the seating and move on to the paint. I wanted to paint it gray. I researched and ruminated over gray paints for days on end, staring until I was glossy eyed at all my paint samples. Do you realize how many variations of gray are out there? Some have a lot of white in them, some look silver, some have a brown tint, some have a blur tint, some have a purple tint. I just wanted GRAY. Like-bam this is bonafide gray right here. i was perplexed. Eventually I color-matched it to my favorite purse. Why not, right?
Where fashion meets interior design at it's best. I call it "Favorite Purse Gray". Creative huh? It actually has a real name, and I didn't color match it exactly at those machines, I just picked the gray paint chip closest to it. I'm lazy, remember? I didn't want to lug my purse down to Home Depot yet again to get it matched when I had a ton of samples in front of me already. At first I thought it was a bit dark for the small space-because 9 times out of 10 paint looks darker once it covers an entire wall-but it has grown on me. My entry is it's own little space, so I think it is okay to go a little more dramatic than you would in a heavily used space like the family room or kitchen.
So here is a close-up of the hooks I finally ended up getting-they are from Target. This was another thing I pondered on forever. I was thinking of ordering those
cute little animal head
ones from Anthro, or some
black & white striped
ones from Anthro, but in the end I went the cheaper route and bought this one. But I like it, with it's pretty sparkly aqua knobs.
Okay, on to the next fiasco-the bench. I decided to order a
gray and white striped bench by Dwell
from Target online. I was super stoked thinking "Oh yeah, this is going to match perfect and look so great! Yadda yadda!" Well, it arrived and looked like this:
Cute, yes, but it didn't fit the space tight enough-nor was it tall enough for my liking. Yes, I did measure, but sometimes you think it will work until it is actually there in the space and you can see it for yourself. The other problem was that the lidded top wouldn't open without pushing the bench out from the wall each time you opened it. AND- final complaint-it was pretty shoddy workmanship: the fabric was thin, see-through and puckered in places that puckering should not have been happening. It was around $200 for crying out loud. Shame on you Dwell for Target! Okay, so that puppy was returned-luckily we were able to take in to the store and did not have to ship it back.
On to what I have settled on: an outdoor bench from World Market: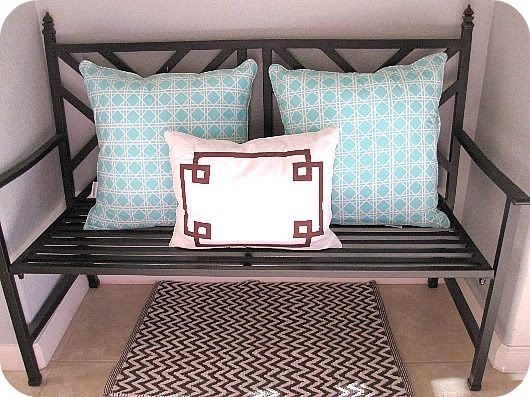 This baby fits in the nook snug as a bug in a rug. Love it. And I think it was around $150, so it was a bit cheaper than my original options. Now believe me when I say I was trolling Craigs and all the local thrift shops to find the perfect bench, but nothing worthwhile ever came up. I usually don't have the best luck with secondhand furniture around these parts.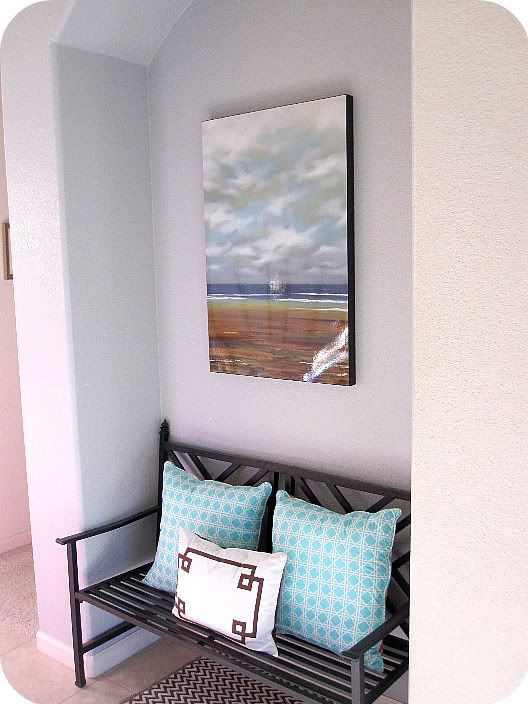 So for now, here it sits with a few pillows. The aqua pillows are from Burlington Coat Factory (they sell more than just coats!) and were $9 each. The little white and brown pillow is super old Dwell for Target. I plan on sewing a pad for the bench too, with an as of yet undecided cool fabric.
The little chevron rug underneath is from Kohls. But of course it bugs me that it is too small, so I will probably get a replacement. What I also want to do is find a couple of baskets that fit perfectly underneath to hold our shoes.
The art piece above the bench is also from Kohls-I got it on clearance for $30. Not sure if that is going to stay their either-I would like a horizontal piece or perhaps a gallery wall of family photos. We'll see.
So now on the other side of the wall, which used to be a blank space, I have moved our console table: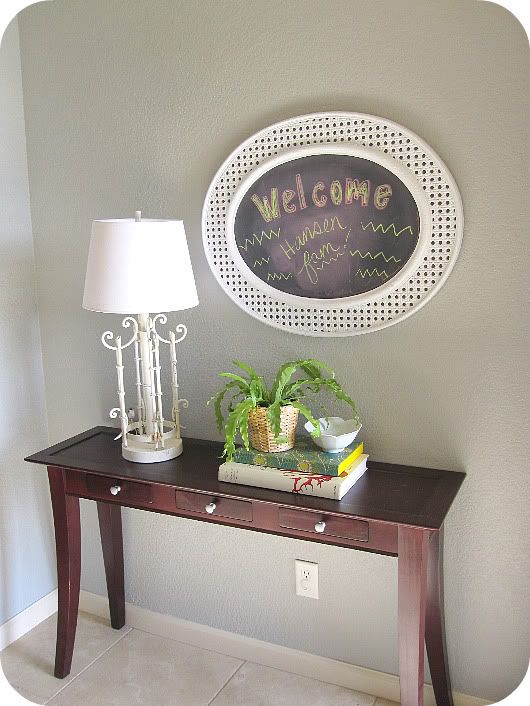 I will eventually be painting it-more than likely white- and buying some cute knobs from Anthro
like these
to replace the silver ones.
The chalkboard above used to be a mirror, and was a DIY I did and posted
about here
.
The lamp is from the
Alameda flea for $30
. I still need to have it re-wired, hence it is not plugged in. I'm cool off starting a house fire over shoddy old azz wiring. The lamp shade is one I had already. I can't decide if it looks too small or not-what do you think? I kinda think it looks cute. If I keep it on I am going to add some sort of ribbon trim on it-either a fun color or a greek key pattern. Otherwise I will buy a linen shade. I would also like to buy two garden stools for underneath the console.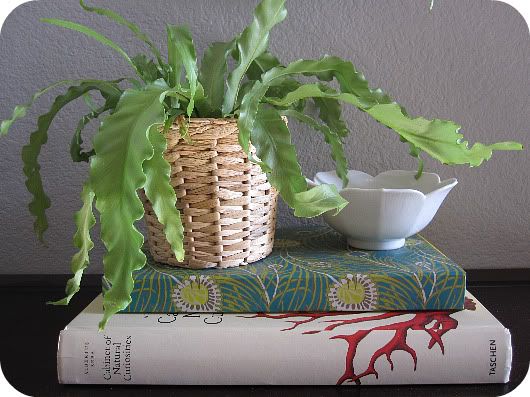 Meet Harry the houseplant. Harry is unfortunately no longer with us. But he was glorious while he lasted. Rest in peace Harry.
So there you have my partially finished entry re-do. I think my last little tweaks will really hit it out tha ballpark.