Happy Monday all, hope you had a great weekend! I am absolutely spent from all the Fourth festivities, how about you?
This morning I'm thrilled to bring you the second installment of my series "If These Walls Could Talk", featuring the home of Ada-Marie from the blog
Spark!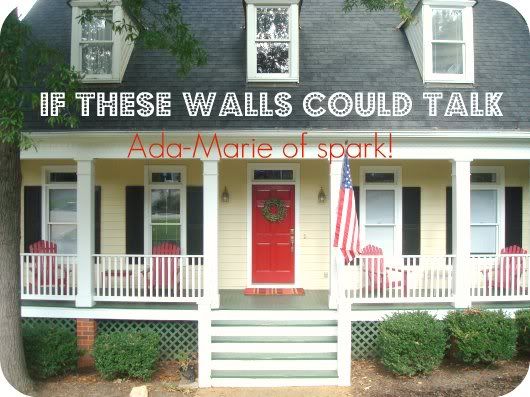 Hi-it's Ada-Marie of
Spark!
and I am so happy and flattered that Jackie chose to include me in the "If These Walls Could Talk" series. Sweetie Pie Pumpkin Noodle is one of my favorite blogs and essential daily reads!
I live in the beautiful and historic city of Richmond, Virginia, with my husband of eight years and our almost three year old daughter. We live on a quiet, woodsy cul-de-sac that is two blocks away from the James River, but less than 5 miles from bustling downtown. When we were looking for a place to call home, we fell in love with the big front porch, the open layout and great location.
For us, home design is a journey, not a destination. The functionality of rooms always seems to be changing and evolving. I practice law from home, and living and working in a beautiful and functional space is a huge priority for me.
About a year after moving in, I gave birth to our daughter and we cobbled together a nursery on a shoe string budget: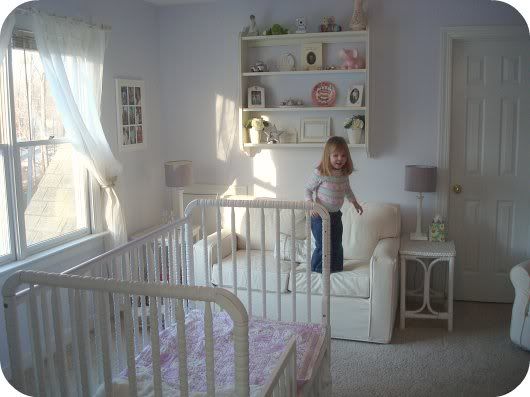 I wanted the nursery to feel serene, peaceful and feminine (without screaming PINK and THEMEY!) As far as sources go, the Jenny Lind crib was a good deal at Land of Nod, and we already had the love seat (Pottery Barn).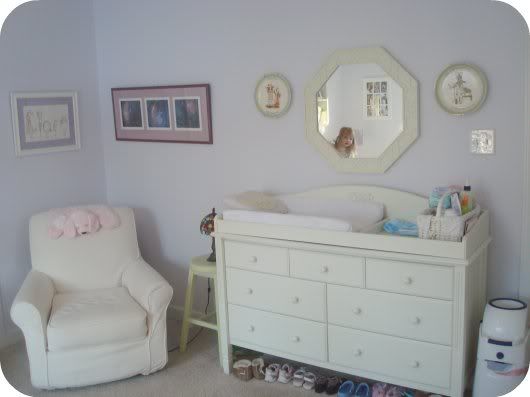 The Pottery Barn Kids glider was a gift, and the mirror was a great Victoria Hagan for Target find.
I just finished
our upstairs hallway
and put it together from scratch (literally bare white walls beforehand!):
I wanted to create a casual space that unifies all of the bedrooms and celebrates our fanily with personal photos and pieces of art. The console was on sale at Pottery Barn, the little orange foo dogs were clearance finds at Home Goods, I already had the lamps (Sundance catalog circa 2003), the rug was from Ballard Designs, the artichoke lamp is from Shades of Light, ceiling lights were marked down at Overstock.com, and all of the frames are from Target. On any given evening, you will find a little nekkid, giggling 2 year old running through this hallway from her bathtub to her bedroom!
Finally, I am sharing a part of the house that remains "unfinished"--our family room: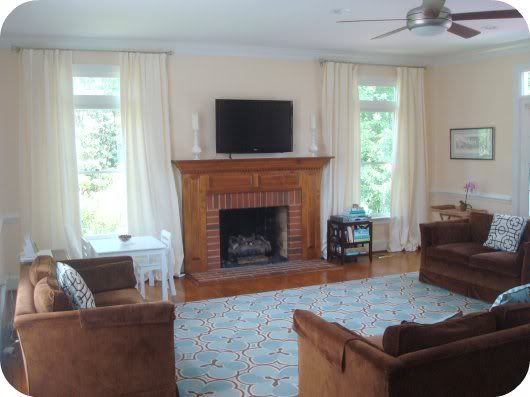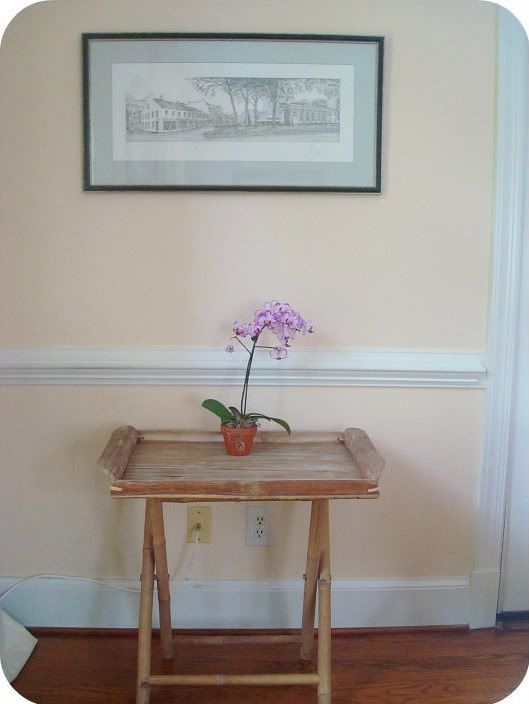 This post would not be complete without a glimose at the heart of our house. Most of the furniture in this room has been handed down or free. We have pieced together this room, which will forever be in the process of getting a facelift as our family progresses. I just can't fathom buying new leather couches with a two year old looming about! We have a lovely cocktail table for this room, but have decided to move it out of the room for now so that my daughter can have plenty of space to roam and play.
Sources for the items we have purchased: the little table holding the cable box (do you like my attemt at hiding it?!) is Victoria Hagan for Target, the throw pillows are Dwell Studio for Target, the rug is Pottery Barn and the panels are Pottery Barn too.
As far as the other rooms go, here are a few more images...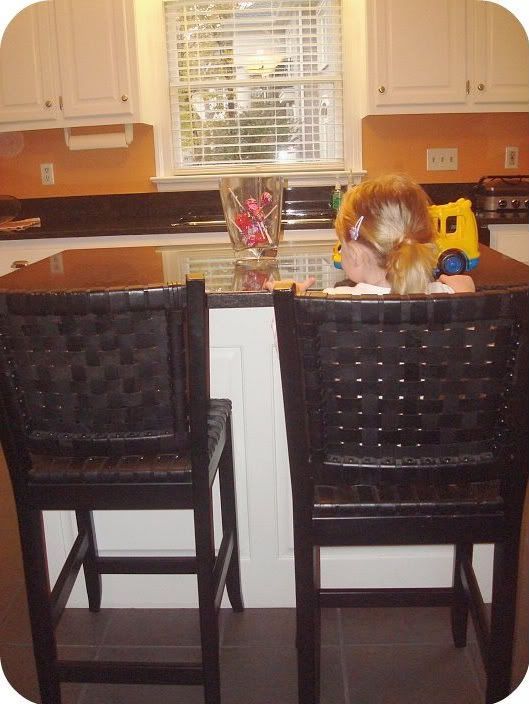 Our kitchen is a cheery orange, which makes me so happy every day.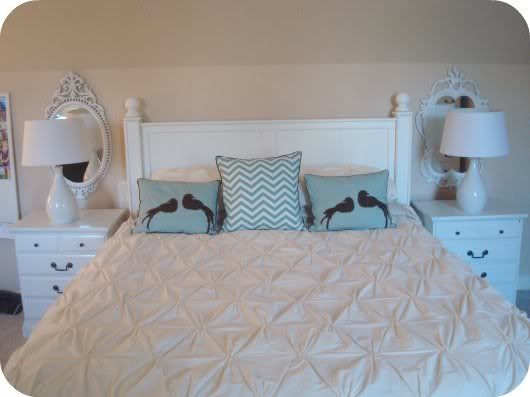 The master bedroom is a neutral oasis--I love the calming properties of white or natural bedding, especially at the end of a long day. The duvet is West Elm, the throw pillows are Dwell Studio for Target, and the mirrors are thrift store finds.
My home office is spartan, functional and comfortable. The shelves are from West Elm, office chair from Overstock, the frames are from Target, and the desk is from Pottery Barn.
So there you have it, my little slice of happiness! Thank you so much for joining me on this glimpse through my favorite place on earth and the place that I am blessed to call home. I am so grateful to Jackie for the opportunity to share it with all of you! You all are welcome over at
Spark!
anytime.
Thank you Ada-Marie for the home tour! I am so jealous of your gorgeous front porch-love the red Adirondack chairs that match your red front door! The rest of your home is lovely too, so thank you again for participating.