This is our first true "summer vacation" around here, as Natalie has wrapped up her first year of preschool. Previously, summer was more inconsequential since Nat was home 365, 24/7 anyway. Oh, what a difference one year and two days of preschool a week make. We're only 6 days in and Natalie is already constantly saying she's bored, hungry, or a horrible combo of both at the same time. We'll call that "bongry". To bring some order and purpose to our summer, I sat down with Nat to create a "Summer Fun List" of things we could fill our days with. No input yet from Kara as she's still too little for opinions like that (thank goodness!)
Here's our
2010 Summer Fun List
:
*Go to the beach
*Visit Grandma & Grandpa in Santa Rosa
*Go to Farmers Market every Thursday
*Go to the library-visit every one in our county
*Go park exploring to find new ones we haven't been to a million times already
*Go miniature golfing
*Go to the fair
*Go swimming at cousin's house
*Go to the zoo
*Lots of playtime in backyard with sprinklers/wading pool
*Go to ballet class every Tuesday
*Go to summer bible camp
*Try new summer recipes
*Have a Fourth of July party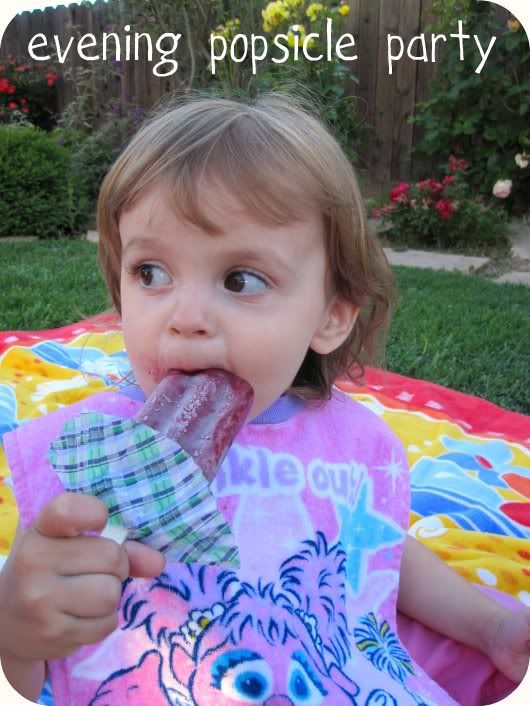 *Make homemade Popsicles
*Make a fun craft project once a week
*Create a chore chart
*Work on writing and reading skills
*Roast marshmallows & make s'mores in our backyard firepit
*Visit the Children's Discovery Museum
*Enroll in art camp (maybe? It costs $150/week!-jeesh)
As far as my sanity goes I have been frequently reminding myself to relax, breath and just have fun. I'm trying to align my mindset with that of my kids-remembering how magical summers felt when I was little and trying to bring that magic into their lives as best as I can.
I've linked this post up with
This Blessed Nest
, where you can find other bloggers who have posted their Summer lists as well. If you have any additional ideas/mommy experience to share with me I'd love for you to leave me a comment.