I'm stoked to debut a new series here on the blog titled "If These Walls Could Talk". *applause and light cheering* I always love getting sneaky peeks inside other people's homes (it's the voyeur in me), but seeing just pictures always leaves me wondering: what's the story behind these rooms? What is the family like who lives here? Where did their design inspiration come from? What kind of daily activities or special memories have happened in these rooms? And beyond that, why did they choose this home to live in? What is the neighborhood like? Basically, getting down to the nitty gritty! With each home I feature in this series I hope to answer some of these questions to see what really makes these houses a home. What the walls would say if they could talk!
So without further adieu, I would like to introduce to you the first participant in the series: Leah of
The Way We Are!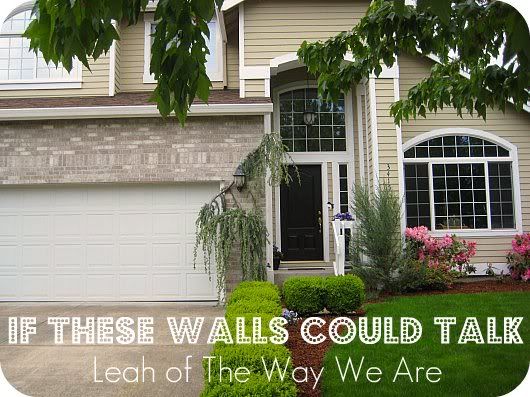 Hello lovely readers of Sweetie Pie Pumpkin Noodle! I am so honored to be a part of this series and to give you all a little glimpse of our home! We are a family of three: my amazing husband Richard, my precious baby girl Evelette and myself. We hope to have many more children, it has been a dream of mine since I was little. Growing up in a family of nine on a large farm in Oregon was in my opinion the best thing ever! I have five brothers, and one sister and she is my best friend, but we all grew up really close. Richard and I met one month after he returned from a tour in Iraq. I am so proud of him and the sacrifices he has made for our country and the man he is today. I was only nineteen when we got married, but I wouldn't have had it any other way. We have been married for four wonderful years. We decided to start trying for a baby a few years ago, we had one miscarriage but then soon became pregnant again with our sweet baby girl. She is now one year old and the most beautiful thing I have ever seen. She is so inspiring to us and we are in awe of her. When we became pregnant we decided to move from our town house to a bigger house with a yard. We have been in our new home almost two years and love the neighborhood. It is a bit more established and we live by mostly retired people, so it is fairly quiet, which we love!
This first interior shot is as you walk in. This has become my favorite room. The high ceilings, the light, the colors are all so inviting to me. I am a firm believer in DIY, so most of what you see we did ourselves. The chairs we found on craigslist and we completely redid ourselves.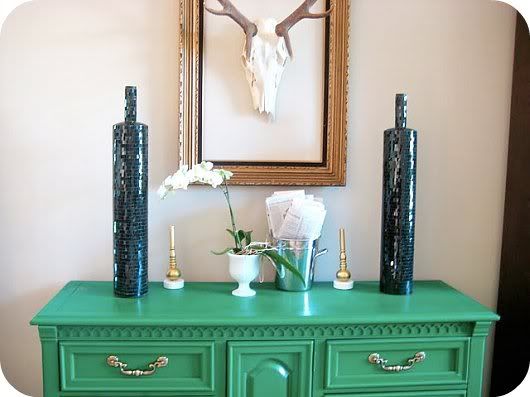 The green dresser was a salvation army find which I spray painted green (Rust-oleum Painter Touch in Meadow Green Gloss). I just recently learned to sew and the first thing I have made are these curtains here. We love to come in this room in the mornings to drink coffee and let Evelette play with books.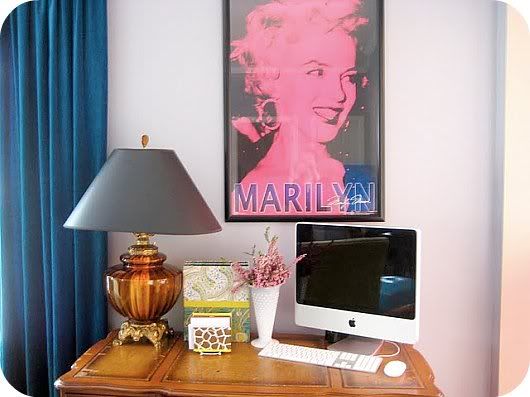 This is a shot of my desk area. The actual desk was a $20 find at goodwill. The lamp was inherited from Richard's grandfather after he passed that no one wanted. We found a new lampshade for it and it made all the difference. The poster we got at the downtown Portland Saturday Market. The vase is another goodwill find and the toast rack was found on etsy. Many blogging hours are spent here! :)
These pics are of our family room. We spend a lot of time here playing, watching movies and snuggling. The color of this room was kind of an accident, I was going for a blueish-gray that I saw in Domino, but it just looked white so we went for the darker version and I loved it. (Benjamin Moore Pigeon Gray) We painted the fireplace black and got the sconces on ebay. The coconut tree was from a trip to Hawaii, which was literally a coconut when we brought it home. The couch is from Z Gallerie (don't ask me the price, lol!) The ottomans are from Home Goods that my husband gave me for Christmas. The mirror was $13 at an estate sale. The entertainment center is yet another goodwill find for $15 that I stapled fabric to.
These last ones are of the nursery. I wanted a dark purple paint for her room so it would be a little unusual for a babies room. I love how it tunred out. I made the pom poms, painted the mirror, I also painted the frame for the Made by Girl print. I love how her room is sophisticated but still cute and girly.
Thank you all so much especially Jackie for having me!
...
Thank you, Leah for sharing your story with us! I just adore the bold color choices and fab thrifty finds you have scored for your home. My absolute favorite item is the green dresser.
...
I hope you enjoyed this first interview of the series! I am currently looking for more contributors to take part, so if you have some walls that would like to talk, please email me at Jackie(at)SweetiePiePumpkinNoodle(dot)com You do not need to have a blog, readers and lurkers welcome!