I had a few rare, precious hours on Saturday all to myself. Kara was asleep, Natalie was at her Grandma's, hubby was busy out in the yard and I had all my pressing matters taken care of. So what was a girl to do? Well, waste time on the interwebs of course! I headed over to Apartment Therapy to peep out the new home tours and pretty much died 45 times when I saw
this amazing 4500 square foot Colonial in North Carolina.
I can't get over it. I immediately saved and posted a ton of pics to my
tumblr blog
, but I think they are worth repeating here, in the event you haven't seen them yet. The homeowners have four kids, two dogs and two bunnies, making it quite the full house. But with 4500 square feet I'm sure they manage just fine. Some people have all the luck. The wife in this family has a successful design business, which explains all the fabulosity going on here. What I can't get over are all the amazing light fixtures! Literally every room has a unique, amazing show piece. I'm big on lighting, and cannot wait until I start replacing our builder's standard crap fixtures. One last note before I get to the pics: the owner describes her style as "family funky, with a lot of vintage and pretty". How cool is that?!
I've been wanting one of those green
West Elm parsons desks
for like ever. Looks like they don't come in that color anymore.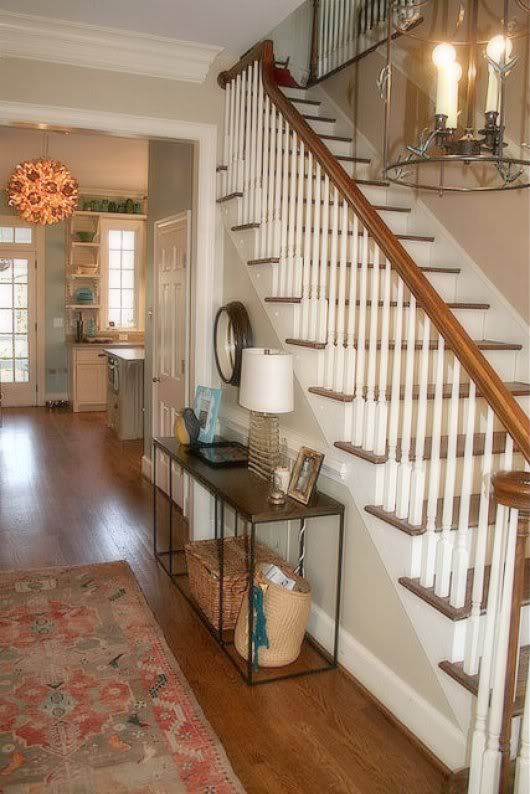 Two, count em, two bomb diggity lighting fixtures in this pic.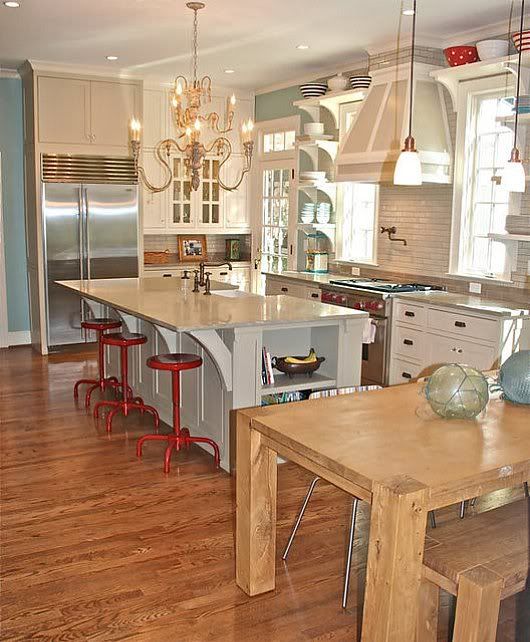 The barstools are vintage Cal Poly chem lab stools that they powder coated red. They look a lot like the stools I posted about before from Sundance. Plus two more lighting fixtures I adore.
You can never go wrong with white cabinets and gray marble counter tops, can you? Love the little number 4 between the mirrors.
I need that little otter that is chillin next to the couch. Adorbs.
All of the funky little quilts and throws from the home were thrifted. I always see a ton while out thrifting too, but am a little bit weary of buying them. They always seem so musty and I picture them in the smoke filled house of some old lady, with any number of her 20 cats lying on them. Dumb, I know, but I can't seem to get past that heebie jeebie feeling. I do, however, keep my eye out for chevron patterned ones like the one above, and have yet to come across one.
I am fully aware that this is a repeat of photo #2, but in this you can see the gorg light fixture (sick of me pointing them out yet?) and how the parsons desk is styled differently. I love to see little variations like that.
More perfect outdoor spaces plucked from my dreams.
I could have gone buck wild posting more images of this home-there are 45 in all. So please humor me and go check out
the rest
. I won't be able to sleep until you do.