Oh Monday, you've come so soon, yet again. Let's try and avoid responsibilities for a hot sec while swooning over these rooms by
Eileen Kathryn Boyd.
Love her mix of glam, modern and traditional styles along with her bold use of color.
I never thought I would like a brown velvet sofa-but here I sit, thinking I kind of dig it. Pairing the brown with fuchsia and turquoise saves it's soul from being too drab. And I have that little brown pillow with grosgrain trim-it's a Dwell for Target! Gotta love a designer who's not afraid of mixing high and low.
Adore this little seating area with it's leopard print bench and framed "le frou frou" print. What great use of a space that might otherwise be overlooked: between the bottom side of the stairs and a doorway.
I swear one of these days I am going to get around to buying a
python tray
. Only been blogging about them forever.
My Mother-In-Law has a very similar built-in at her house that I would LOVE to come and style it like this. Painting or wallpapering the back of a bookshelf adds instant oomph and makes what you display in front really pop.
This whole scene would have been too traditional for my taste if it weren't for the brillz addition of a modern console.
Send a few rolls of that wallpaper my way please. Along with a handyman who knows how to install it.
A glass lamp is on my wishlist as of late. Adds a bit of shine in a very unassuming way. She's also managed to find the most perfect shade of orange for use on the drapes and pillow.
Love this table setting!! A few big clam shells, smoky swirled glass balls, colorful votives, varying glass candlesticks and what looks like a patterned paper runner= good times. I'd linger way past my welcome at this dinner party. The purple with grass green is such a fun color combo too.
In this room, the bold draperies are the icing on the cake.
Everyone loves a good inspiration board shot. Other items in the room to love: grass cloth wall panels, fuchsia upholstered chairs, canvas skirted table with grommets.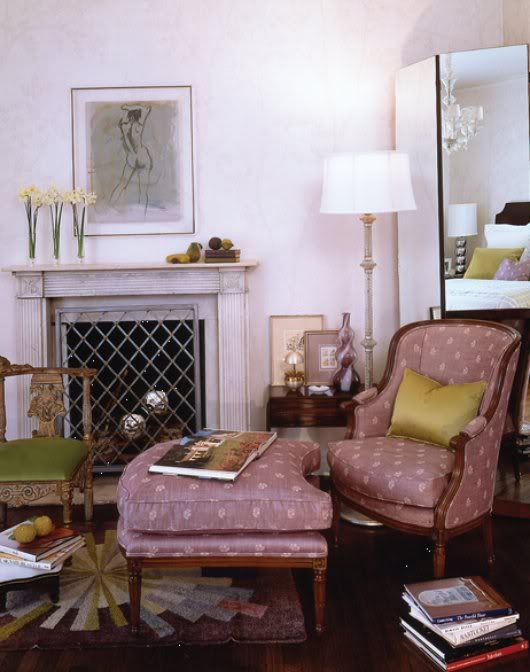 Who wants to join me in this cozy reading nook to pour over interior design, travel and fashion books? We'll sip on some vino and try not to spill it on the fab rug.
Okay, get back to your to-do list now my peeps. Monday waits for no one!