Last Sunday I picked up my bestie bright and early and headed to the Alameda Antiques Fair. This particular fair is held the first Sunday of every month and has over 800(!) vendors. It is featured as one of the best antique shows in the U.S. by many magazines and publications, so I am fortunate to live only an hour and a half away.
Here is a brief re-cap of the day:
6:00am- Alarm goes off. Holy heck it's early! I'm blessed with kids who sleep in, so I am not used to getting up at this hour. Drudge over to the shower to get ready.
7:00am- Quietly slip out the door as to not wake anyone. Natalie would flip if she knew I was leaving without her.
7:05am- Stop one: Starbucks drive-through. Best believe I'm not starting my day without an iced dark cherry mocha and three vanilla scones. Don't worry-I'll be walking off the calories later. And then some.
8:00am- Arrive at bestie's house to pick her up. She's never been to an antiques fair, and to be honest it's not really her thing, but I'm dragging her along with me anyway.
8:40am-We made it thanks to my trusty GPS. My palms are sweaty because I hate driving to places I'm not familiar with. Especially in the bay area. They don't call them "Bay area drivers" for nothing!
9:00am- Get let in with the 9:00 group. It actually opens at six, but the reasons for not getting there that early were twofold: 1. There was no way in Hades I was getting up at 3 in the morn for something like this. 2. It costs $10 more to get in at that time. I'll save the money and the sleep thankyouverymuch. With 800 vendors I'm sure there will be plenty of goodies left to go around.
9:05am- I started off right away buying this lamp for $30, at one of the first booths we stopped at:
Due to Murphy's Law, I pretty much knew if I passed it up then it would be gone later and I would be full of non-buyer's remorse (which is WAY worse than buyer's remorse).
After that it was pretty much all a blur. This place is crazy huge. The booths went on for days and days and days...and days. We got pretty delirious after awhile. Here are some pretty things I thought were photo worthy:
Wouldn't this light-up Chanel sign be cute in a girls' room or bachelorette pad?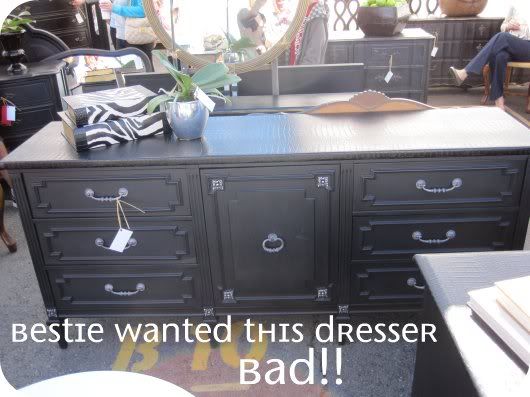 The top was covered in a gorgeous faux snakeskin.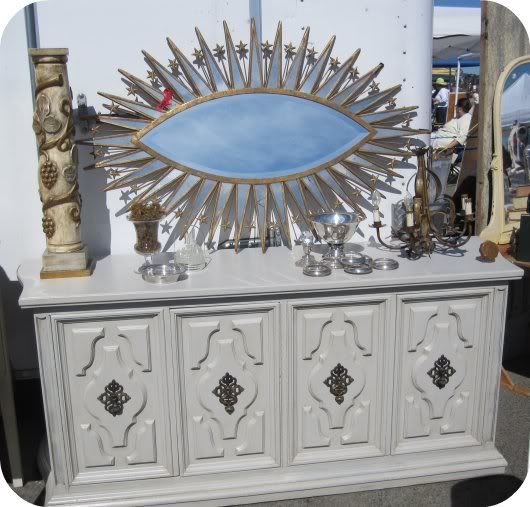 I really liked this mirror and gray console. That grapevine wrapped pillar on the left is rather questionable though.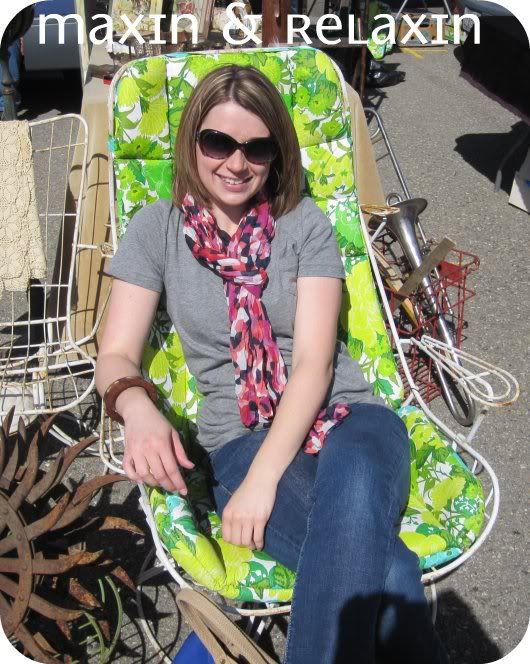 After about an hour of walking I found a nice spot to take a load off for a few. Little did I know it would take another four hours to get through the rest of the vendors.
Black dressers and coral seemed to dominate the scene.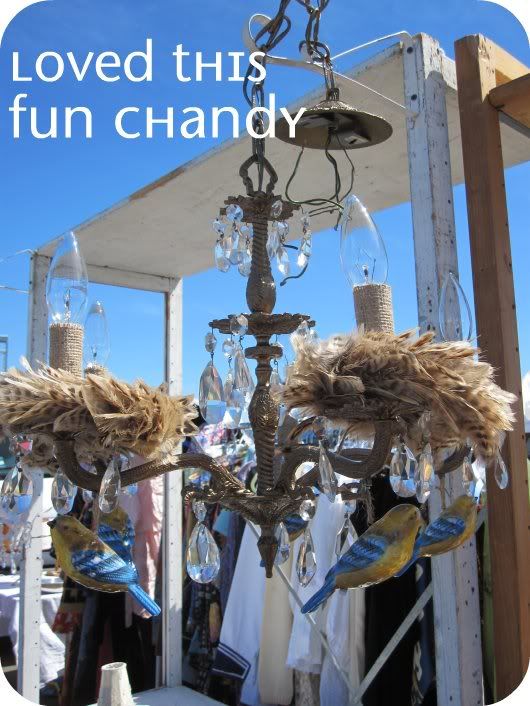 At around noon my stomach started asking me if it was time for lunch, so we headed to the food court area and decided on some carne asada tacos. They were delish. Before getting back in the game I snapped a quick pic of the view of San Francisco:
Yeah, it looked better in person.
This peacock lamp was kind of tacky and fabulous all at once, but the $1500.00 price tag made me run the other way without looking back.
That's right my friends, one vendor had N'Sync puppets! Don't think these are 20 years old there Chinese dude manning the station, but whatev. I had a hard time passing these up, especially with how hot and life-like the JT doll was:
Of course, I prefer him post-jheri curl.
I also had a hard time passing up these ginormous letters:
Apparently salvaged from an old "Goodyear" sign and rearranged for your pleasure.
At 2:00pm we had finally seen it all and decided to head home. But not before indulging in some mini donuts covered in warm chocolate syrup and powdered sugar, made by this guy: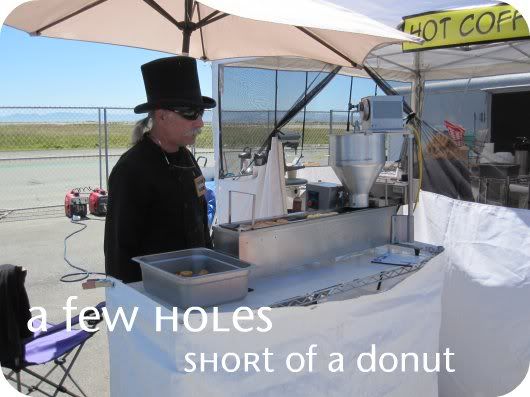 He told us he had just gotten ordained so he can perform marriages right there in front of his donut machine. Any takers?
I bought a few other goodies throughout the day that I didn't get pics of yet, so I will share those with you another time.
Hope you enjoyed the ride!