What do you do when you have sick kids and no babysitter on Valentine's Day? Have an "at home date" that's what! After being continually frustrated by one canceled date night after another, my husband and I decided to start creating our own little romantic dates at home. Our first of hopefully many at home dates was a mini cheese and wine tasting.
Here is how I put it together:
I headed to our local grocery store to pick up a variety of cheeses to try. I picked a mixture of hard and soft cheeses:
Brie (soft)
Cambozola (soft)
Four Pepper Goat Cheese (soft)
Havarti (hard)
Purple Moon (hard-it's Cabernet soaked cheddar. Delish)
I would suggest to go to a cheese shop if you have one locally. That way there is a bigger variety to choose from, you can ask for suggestions and they can make your portions of each cheese smaller so you don't have a ton leftover. (Like us-I'm pretty sure it's going to last us through Labor Day)
I also purchased a baguette to spread the soft cheeses on, water crackers for the hard cheeses, grapes (said to be used to cleanse your palette between cheeses) and pink lady apples.
We had a bottle of Merlot and Chardonnay on hand already, so we just went ahead and used those. If you want to get really fancy, you can look up exact wine pairings for each cheese online.
Next go home and set up your table all snazzy like so: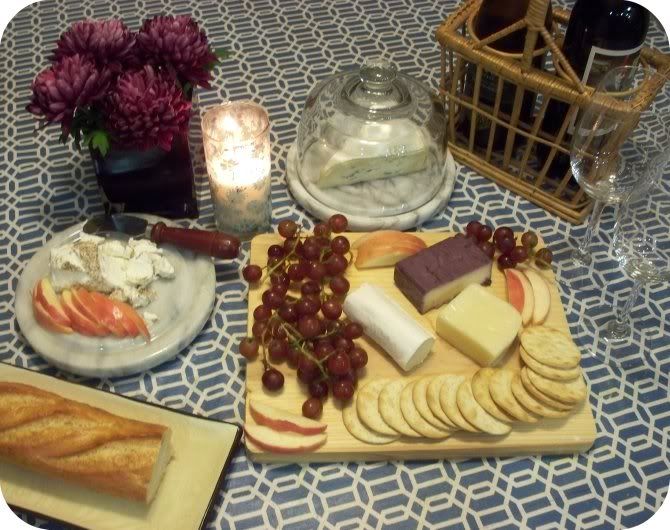 Make sure you have some flowers and a candle or two to set the mood. Turn down the rest of the lights.
Put out some cute labels for each cheese:
Don't forget the sexy music! Go to
Pandora
or your favorite internet radio station and type in an artist that does it for you. In my case, Ray LaMontagne.
Now you are all set and ready to go!
We ended up having a really great time. See:
Happy and relaxed mommy after a few glasses of vino and tasty cheese. Who needs an $80 dinner out?

The Purple Moon ended up being our favorite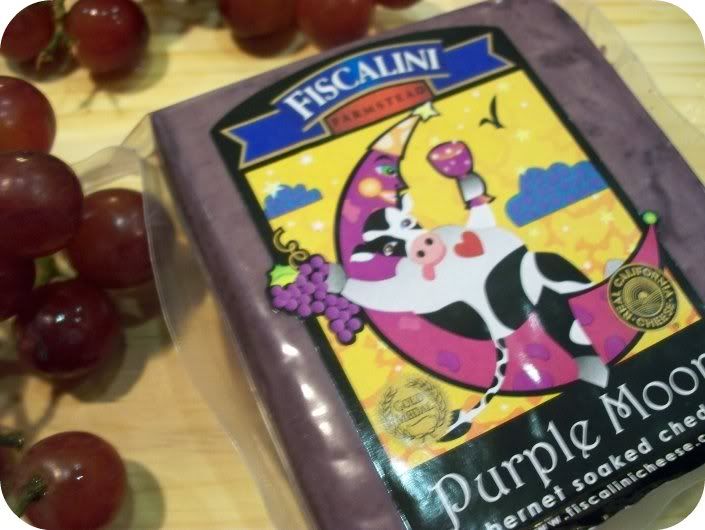 Another hit was this little recipe:
Place a slice of brie and a thin slice of apple on a water cracker. Drizzle with honey and cinnamon. Yuuuummm!
Here are my last few tips for a successful at home date:
Obviously, if you have kids, wait until they are in bed and sound asleep. You don't want any interruptions.
Make sure the house is straightened: toys put away, dishes done, etc. You don't want visual reminders of all the chores that still need to be done.
Turn the ringer off your phone.
Get dressed up just as if you were going out to do the same activity. It may be tempting to put on your sweats and get cozy, but it feels more special to have a nice outfit on. Don't forget some nice jewelry, lipstick and perfume!
We are already brainstorming ideas for our next at home date. Send suggestions my way if you have any!
Oh, and guess who got some Penguin Classics for Valentine's Day? Love them.